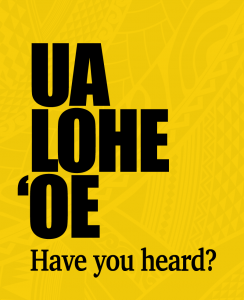 Ua lohe ʻoe? (Have you heard?)
ʻO ka ʻŌlelo Hawaiʻi o ka pule ʻo (The Hawaiian word or phrase of the week is) kumu (teacher).
Ua lawe aku ke kumu i nā haumāna i ka hale hōʻikeʻike (The teacher took the students to the museum).
Ua Lohe ʻOe is brought to the UH West Oʻahu ʻohana by the UH West Oʻahu PIKO Project, which is funded by a U.S. Department of Education Title III grant.
Image courtesy of UH West Oʻahu