Congratulations to UH West Oʻahu's Dr. Albie Miles on the publication of "Vineyard proximity to riparian habitat influences Western grape leafhopper (Erythroneura elegantula Osborn) population" in the peer-reviewed journal Agriculture, Ecosystems & Environment (Vol. 211). Together with colleagues Houston Wilson, Kent M. Daane and Miguel A. Altieri, Miles conducted a study to evaluate the impact of vineyard proximity to riparian habitat on the biological control and population densities of the Western grape leafhopper. The study is a part Dr. Miles' natural science research measuring the impact of biological diversity on agroecosystem functioning, a topic that figures prominently in the new Sustainable Community Food Systems curriculum. The team found:
Natural enemies did not appear to colonize the vineyard from the riparian area
Crop vigor was decreased at the vineyard edge.
Leafhopper egg deposition and nymph densities were lower at vineyard edge.
Leafhopper response to changes in crop vigor can influence their abundance.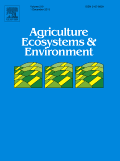 Images courtesy of Albie Miles and Dr. Albie Miles