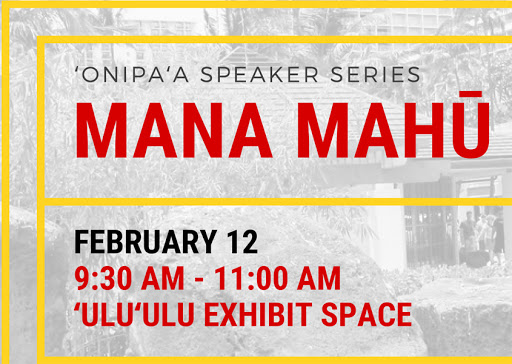 A panel of five Kānaka Maoli scholars and activists will be the featured guests at this monthʻs ʻOnipaʻa Speaker Series: Mana Mahū, 9:30 to 11 a.m., Feb. 12, at the ʻUluʻulu Exhibition Space.
The speakers will discuss the growing recognition of the roles and possibilities for Mana Mahū within Kānaka Maoli activism and life. In addition, the panel will examine the interactions and connections with concepts such as Mana Wāhine and Aloha ʻĀina.
Students, faculty, staff, and the general public are welcome to this free presentation.
The speakers:
Dr. Jamaica Heolimeleikalani Osorio is a Kanaka Maoli wahine activist/poet/scholar born and raised in Pālolo Valley to parents Jonathan and Mary Osorio. Heoli earned her Ph.D. in English (Hawaiian literature) with the completion of her dissertation entitled: "(Re)membering ʻUpena of Intimacies: A Kanaka Maoli Moʻolelo Beyond Queer Theory." Currently, Heoli is an Assistant Professor of Indigenous and Native Hawaiian Politics at the University of Hawaiʻi at Mānoa. Heoli is a three-time national poetry champion, poetry mentor, and a published author. She is a proud past Kaiāpuni student, Ford fellow, and a graduate of Kamehameha Schools, Stanford University (B.A.) and New York University (M.A.).
Kalaniopua Young is a radical māhūwahine scholar-activist of color, a trans woman survivor of cis-sexist heteropatriarchy and racial gender violence, and a former community organizer with Puʻuhonua o Waiʻanae and United Territories of Pacific Islanders Alliance. She is a doctoral graduate of the Department of Anthropology at the University of Washington. Her dissertation, "Constellations of Rebellion: Home, Makeshift Economies and Queer Indigeneity," is a critical ethnography that centers emergent connections between the dissonance of home,
Queer Indigeneity, and tent cities across and within settler states. Giving focus to 'Ōiwi ethnographic epistemology and ontology, the work conjures innovative practices, principles, and priorities that reconfigure Indigeneity as a productive sight for remaking settler states.
Kahala Johnson is a māhū political scientist and kiaʻimauna of Haleakalā and Maunakea. In July 2019, he supported Mahealani Ahia and Dr. Osorio on the Maunakea Access Road as they used their bodies to protect their ancestors from TMT desecration. Following the establishment of Puʻuhonua o Puʻuhuluhulu, he assisted Mahealani Ahia and Dr. Kalaniopua Young in building the Hale Mauna Wahine and Hale Mauna Māhū as brave spaces for māhū and wāhine in camp. His dissertation "A Night Slippery With Echoes" is empowered by the brilliance and mana of the wāhine and māhū he is privileged to speak with on this panel.
Māhealani Ahia is a Los Angeles-born Kanaka 'Ōiwi artist, scholar, activist, songcatcher, and storykeeper with lineal ties to Malu-o-Lele, Maui. With a background in theatre arts, writing, and performance from University of California Berkeley and University of California Irvine, Māhea is committed to creating artistic and academic projects that empower Indigenous feminist decolonial research. Her master's degree in Mythology and Psychology focused on cultural trauma and the power of stories to heal. Māhea is a Ph.D. student in English (Hawaiian Literature) at UH Mānoa, a founding member of Puʻuhuluhulu University, kahu of Hale Mauna Wahine, and co-organizer for the Mauna Kea Syllabus Project. Her current writing project Kaomi Ka Mō'ī is a musical play based on the dual queer kingship of Kauikeaouli and his 'aikane Kaomi.
Terrill James Kanealiʻikeikiokaʻaina Williams is a māhū Kanaka Maoli scholar and activist currently working on his M.B.A. at University of California Riverside. During the fall term he took a leave of absence in order to stand as a kiaʻi on Mauna Kea.
The ʻOnipaʻa event is a collaboration between the Hawaiian-Pacific Studies, History, and Political Science departments, the James & Abigail Campbell Library, and the ʻUluʻulu Moving Image Archive, and sponsored by the Building & Bridges Title III grant.
For more information, email kawenask@hawaii.edu.