Sheila Estanique's path to a college degree wasn't smooth by any stretch of the imagination.
Many experience potholes and bumps along the way. But Estanique's rough years as a teen and young adult almost shut the door on her journey before it could even start.
She dropped out of school in what would have been her sophomore year. Battling an affinity for drugs that began at age 15. Having the first of her six children at age 19. Running away from home. Domestic abuse that happened with past boyfriends. The list goes on.
"It was a very horrifying and dark time for me," notes Estanique, who is about to celebrate her 44th birthday. Estanique doesn't sugarcoat her past history, and her agonizing tale doesn't obscure her story of redemption in the classroom.
On Saturday, May 4, she walked with other UH West Oʻahu graduates, having earned a Bachelor of Arts in Social Sciences with a concentration in Psychology. She plans to pursue a master's degree and sees herself working in an educational setting in the future.
"There were times when I wanted to give up (on pursuing a degree) when life, marriage, parenting and college became overwhelming," said Estanique, who has children ages 9, 12 and 16 at home. "I would remind myself that my kids are watching me, that I am setting an example of what hard work, determination, and perseverance looks like."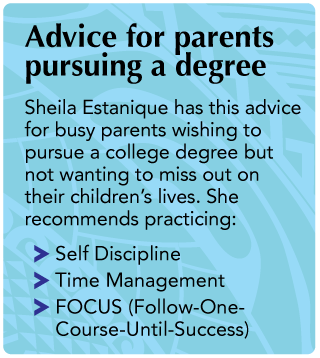 As a youth, Estanique wasn't confident about her abilities in school. After repeating the ninth grade Estanique decided to drop out, which she kept secret from her parents. She started using drugs, ran away from home, and had run-ins with the law.
More tumult followed. She managed to clean up at times, earning a General Educational Development (GED) degree with plans to attend Kapiʻolani Community College to pursue her childhood dream of becoming a nurse.
But the on-again, off-again nature of her lifestyle intruded; her dream of becoming a nurse vaporized at the end of a pipe as the once hopeful Estanique slipped back into her life of drugs.  
"I was a young, single mom," Estanique said, explaining she went through some tough times as a single parent to her first three children. "I am very thankful that my parents stepped in to help take care of them."
There were three separate stints in drug treatment centers. Estanique relapsed each time and by her 30th birthday, she found herself pregnant with her fourth child. She realized she needed to make changes.
Estanique started salvaging her life. She rebuilt bridges she had burned with her mother. "We're good now. At the time it was happening I blamed her and hated her," she says. "As I got older I realized I made the choice to do the things I did. It's not her fault."
She attributes the decision to return to school to her sister, a doctor of pharmacy, and her brother-in-law, a nurse practitioner, decided to go back to school. They argued that Estanique would be a role model for her children and that they would be proud of her. At age 38, unsure of whether she could do the work, Estanique enrolled in two classes at Windward Community College.
"School is not easy for me," said Estanique, explaining writing papers might take her a week, where other people might finish in a day. "I struggle to get my work done."
Even so, it appears Estanique has found her groove in higher education and there's little in her demeanor to suggest her distressed past. Despite self-doubts about her ability as a scholar, Estanique graduated from WCC as a member of Phi Theta Kappa, the largest and most prestigious honor society for two-year college students. She graduated magna cum laude.
Estanique also found work on the WCC campus as a Service Learning office assistant and as a Student Instructor (S.I.) in Biology. She lists a student practicum at Hina Mauka as a highlight; she volunteered as a mentor for women in recovery through the Hiki Niʻo Mentoring program. She graduated with an Associate in Arts in Liberal Arts degree with an Academic Subject Certificate in Psycho-Social Development Studies.
"I really, really progressed there," said Estanique, who also is the recipient of numerous scholarships including those through the University of Hawaiʻi Foundation – the Minami Community Foundation Scholarship, the Paul and Jane Field Scholarship, the Hawaiʻi Veterans Memorial Scholarship, the Charles R. Hemenway Scholarship, as well as others, including the Hawaiʻi Community Foundation Hoʻomaka Hou New Beginning Scholarship, the HCF Community Scholarship, the Jeannette Rankin Women's Scholarship, and others.
She also impressed her teachers. Dr. Konstantinos Zougris, a UH West Oʻahu Assistant professor of Sociology, said Estanique was an exemplary student, delivering challenging assignments in a timely manner, working well and adapting to others in groups, while demonstrating leadership skills.
"I was really impressed by her diligence and academic work," Zougris said, noting she had done good work in difficult writing-intensive and theoretical classes and was a highly motivated individual. "She performed really, really well in all of the classes. She was one of my top students."
She chose to attend UH West Oʻahu for a variety of reasons (diversity, student/instructor ratio for in-person classes, free parking, a functional library to study in, and online courses) and is happy with her choice.  She speaks highly of UH West Oʻahu's faculty, who she says are student-centered and care about their students' ability to attain critical knowledge and success.
"In my experience, the Social Sciences and Humanities (faculty) are a team of phenomenal professors who are passionate about what they teach and as difficult and challenging as some may be, they are always available for questions and concerns about your success in their courses,' said Estanique in an email, noting she appreciated that her professors were "kid friendly" in the event that she brought a child or two to campus because of sickness or their school being out.
"The aloha spirit embodies the UH West Oʻahu campus where everyone is friendly and shares the same common goal."
Estanique said she would recommend the campus to others, especially if they are working individuals because of the many online courses that are available. She also appreciated the support from other students and friendships made on campus.  She's also thankful for her husband, who she says was a partner in her education by helping out with their three children. She also has three older children ages 21, 22 and 24 as well as granddaughters Talia, age 2, and Tatum,(soon to be) 4.
"The toughest part about being a student/parent is time management and being able to devote my time to studying and deadlines while not missing out on my children's developmental milestones and achievements," Estanique said, explaining she strives to make sure they have access to experiences that weren't available to her.  
"Having to divide my attention was stressful and I'm a sports mom and fan of 3 sons who play baseball, paddling, and karate. I'm the mom at the baseball field Monday to Friday (and Saturdays) during practices and games with her laptop in tow doing school work."
On Saturday, Estanique will join other graduates and wear the PSI Chi International Honor Society in Psychology graduation stole as well as a service learning stole.  Her mother unfortunately couldn't make the ceremony, but her father, five of her six children (one will visit shortly after), two grandchildren, and other family and friends were in attendance. She says she plans to work before returning to school to get another degree.
She's already setting her sights on her next educational goal and later this year will apply to College of Education at the University of Hawaiʻi at Mānoa to enter the master's program in Educational Administration in the Fall 2020 semester.
She knows it will be tough. But it's almost as if she's following a familiar path and something she advises to other folks who are thinking about returning for more education.
"You have to have the right mindset where nothing is more important than achieving your goal and not allowing setbacks in your life to hinder that goal," said Estanique when asked about what advice she'd give returning students. "It will be challenging at times when you are tested to break and sometimes you will, but be resilient, chin up, and press forward…you'll get there!"