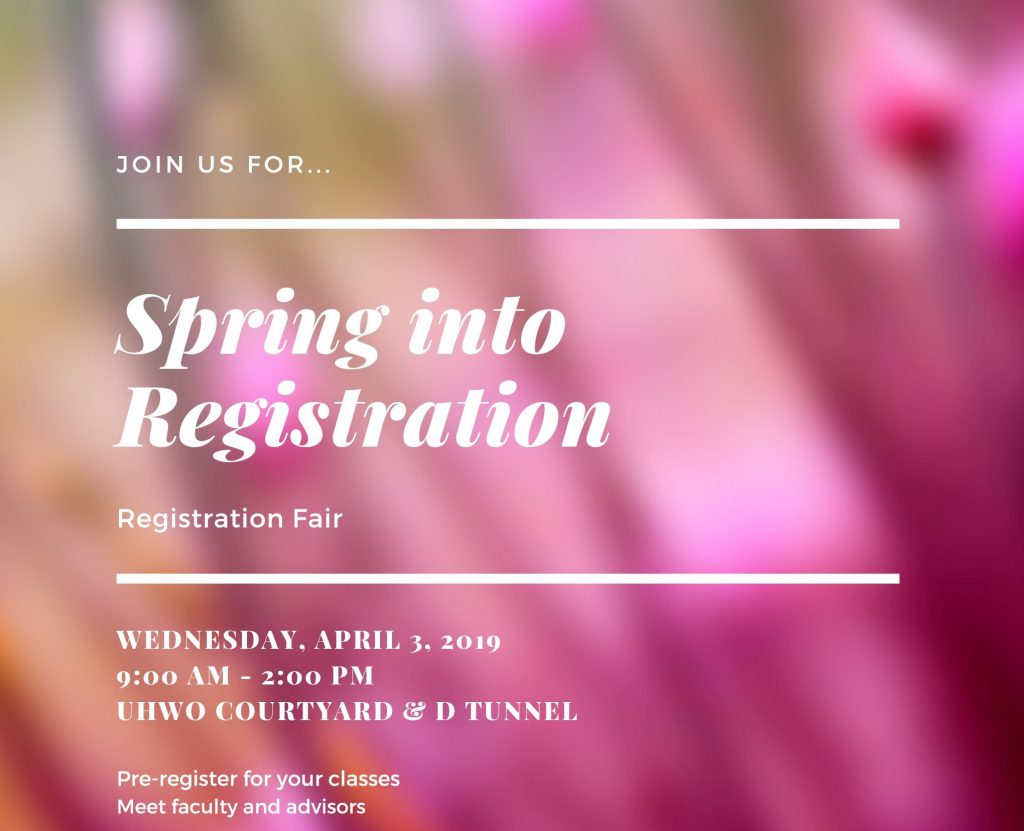 A pre-registration fair providing help to students with questions about what classes to take during the Summer sessions and Fall 2019 semester is set for tomorrow in the UH West Oʻahu Courtyard and the D Building "tunnel."
The Spring into Registration fair is scheduled from 9 a.m. to 2 p.m. Advisors, some professors and others will be on hand to help with registration assistance and pre-registration. Students are asked to check their accounts for any "Holds" (financial obligations, payments due, advising holds, etc.) that may prevent them from registering for classes.
Registration for continuing students for Summer Session and Fall 2019 Semesters begins on April 8 when seniors (students with 90 or more credits) can begin registering. A schedule of classes available for the summer and fall have been posted online. Students are advised to check their STAR GPS for registration dates and times.
The first Summer Session is scheduled for May 20 to June 28; the second session is July 1 to Aug. 9.  The Fall 2019 Semester begins Aug. 26 and runs through Dec. 13.
Registration Activity
Registration Dates

Registration for continuing students

Begins on April 8

Registration for new classified (

degree-seeking

) neighbor island transfer students

Begins on April 22

Registration for new classified (

degree-seeking

) transfer students

Begins on April 29

Registration for first-time new classified (

degree-seeking

) freshmen

Begins on May 6

Degree seeking freshmen are required to attend an online Freshmen New Student Orientation (FNSO); A PIN is required to register.

Registration in STAR GPS will be closed for UH West O

'

ahu fall 2019 classes; Summer 2019 registration will be available

May 12, all-day

Select classes restricted by major and/or campus (DE) available to eligible classified students

Begins on May 13, 9:00 a.m.

UH System payment deadline

To Be Announced

Registration for unclassified students (

non-degree

) and auditors

Begins on August 19

Registration for students using the Faculty/Staff Tuition Waiver and guests through the Senior Citizen's Visitor Program

Begins on August 26

Late Registration

All first-time registration that occurs during this period is subject to a non-refundable $30 late registration fee.

August 26 – September 3