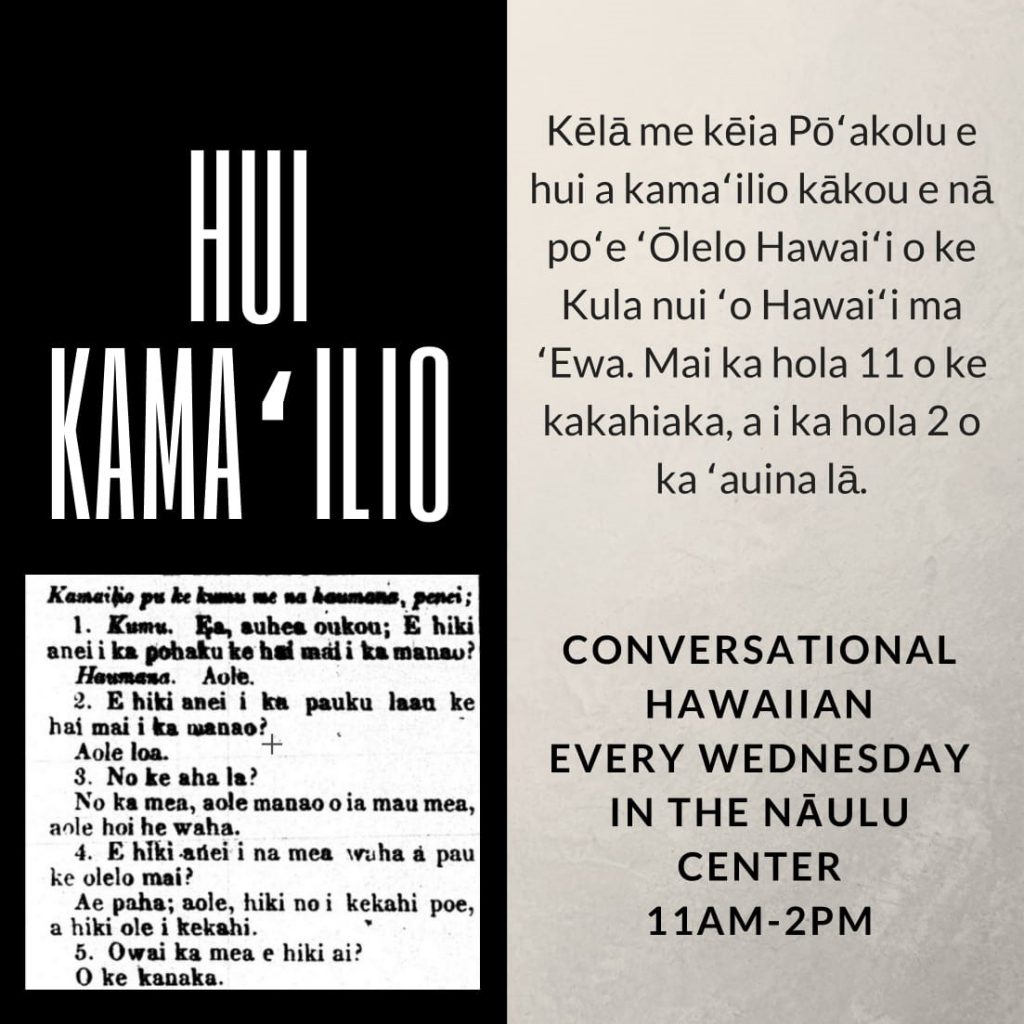 A program hosted by the Nāulu Center is seeking to give ʻōlelo Hawaiʻi learners a place to practice and improve upon their conversational Hawaiian language skills each Wednesday.
Led by student Hema Yam-Lum, the Hui Kamaʻilio program meets at the Nāulu Center, where people can converse in Hawaiian and improve upon their ʻōlelo  Hawaiʻi skills. The program runs from 11 a.m. to 2 p.m. with Yam-Lum directing the conversations and offering tips on language and grammar.
Yam-Lum, serves as Native Hawaiian Student Coordinator for the PIKO Project, a UH West Oʻahu program that is funded by a U.S. Department of Education Title III grant. The PIKO Project's mission includes operating programs that integrate Native Hawaiian values of well-being.
PIKO views the program as a great opportunity for people to informally learn and be immersed in the language. "Conversational Hawaiian (Hui Kamaʻilio) is an opportunity for anyone interested in speaking the Hawaiian language with a fluent speaker," said Christielove Espinosa, a student who serves as PIKO student coordinator. "The fluent speaker will help to guide the conversations, teach tips and tricks and overall help people learn to speak with proper sentence structures."
Yam-Lum said the program began last semester and has attracted students taking lower division Hawaiian Language courses who want to practice and speak ʻōlelo Hawaiʻi outside of class. He said Hui Kamaʻilio attracted more students when it began, and that some weeks the sessions can consist of a single student conversing with him. He hopes that changes.
"The Nāulu Center has become a safe haven for anyone looking to have a little experience out of the norm," Yam-Lum said. "A place where Hawaiians can express themselves to a full extent outside the classroom."