University of Hawai'i–West O'ahu graduate Dexter Corpuz and lecturer Brian Watanabe received prestigious honors at the 2023 Pele Awards, which recognizes the best advertising and design work created in Hawai'i.
Corpuz won "2023 Best Of Show – College" and Watanabe was named "AAF (American Advertising Federation) – Hawai'i 2023 Ad Person of the Year" at the Pele Awards Show, which was held on May 6 at the Elks Lodge Honolulu in Waikīkī.
The Pele Awards, part of Hawai'i's advertising and design community for more than 40 years, is one of 15 National District Competitions for the American Advertising Awards, also known as the ADDYs, according to the Pele Awards website. Pele Gold winners in all national categories are sent to the National Finals of the American Advertising Awards Competition to represent District 13.
"For me, being just a small local designer from Maui, it felt awesome to have the college work I did in the past year recognized by the best of the best in the industry and by other UH students who also competed," Corpuz said.
The Maui resident, who did distance learning at UH West O'ahu from fall 2020 to spring 2022, received a bachelor's degree in Creative Media with a concentration in General Creative Media.
Corpuz won both "Pele Gold – Integrated Brand Identity Campaign" and "Best of Show – College" (along with a $1,000 NMG Network prize) for a logo brand redesign project he did last year for one of his Creative Media classes with Scott Kawamura.
"It was a rebrand of a breakfast/pancake restaurant here on Maui," Corpuz said. "I redesigned their whole logo and brand to have a new, fresh look, and I used monolines to represent pancake batter and syrup streaks!"
Corpuz was also awarded a "Pele Silver –  Social Media campaign" for a web campaign design based on Tesla Motors that he created last year as another project for one of his Creative Media classes with Kawamura.
"The campaign promoted their car and switching to a more sustainable, green future," Corpuz said. "I utilized more of my photography and simplicity in designs for this web/social media campaign project."
Corpuz said he was speechless and in shock after learning about his Pele Awards.
"I was just proud to have represented UH West O'ahu Academy for Creative Media and Maui," he said. "I felt accomplished that all my hard work and the passion of my craft in college were recognized!
Watanabe, who was named "AAF-Hawai'i 2023 Ad Person of the Year," won the award in his current position as Executive Creative Director at MVNP, one of the oldest and most renowned advertising agencies in Hawai'i. Watanabe is also a lecturer who taught screenwriting at the Academy for Creative Media at UH West O'ahu.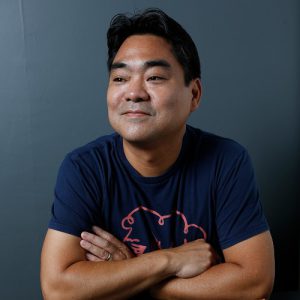 "For the award notification, the entire (MVNP) staff and my family surprised me and I didn't see it coming," Watanabe said. "It was really nice to be recognized from my peers for over 20 years of working as an advertising copywriter, creative director, and commercial director."
Watanabe has worked in San Francisco, Detroit, New York, and his hometown of Hawai'i, with clients who have included AT&T, Mastercard, Wendy's, and some of Hawai'i's biggest brands, including the Hawai'i Visitors and Convention Bureau, Kamehameha Schools, Hawaiian Airlines, McDonald's Hawai'i, and Servco Pacific, according to his bio on the Pele Awards website.
The website continues, "Brian has worked on projects that have won awards from the American Advertising Awards, Telly Awards, Communication Arts, and the Pele Awards. His writing work won an Emmy for Hawaiian Airlines with NMG Network, and a Silver Telly for Kamehameha Schools as a writer and director."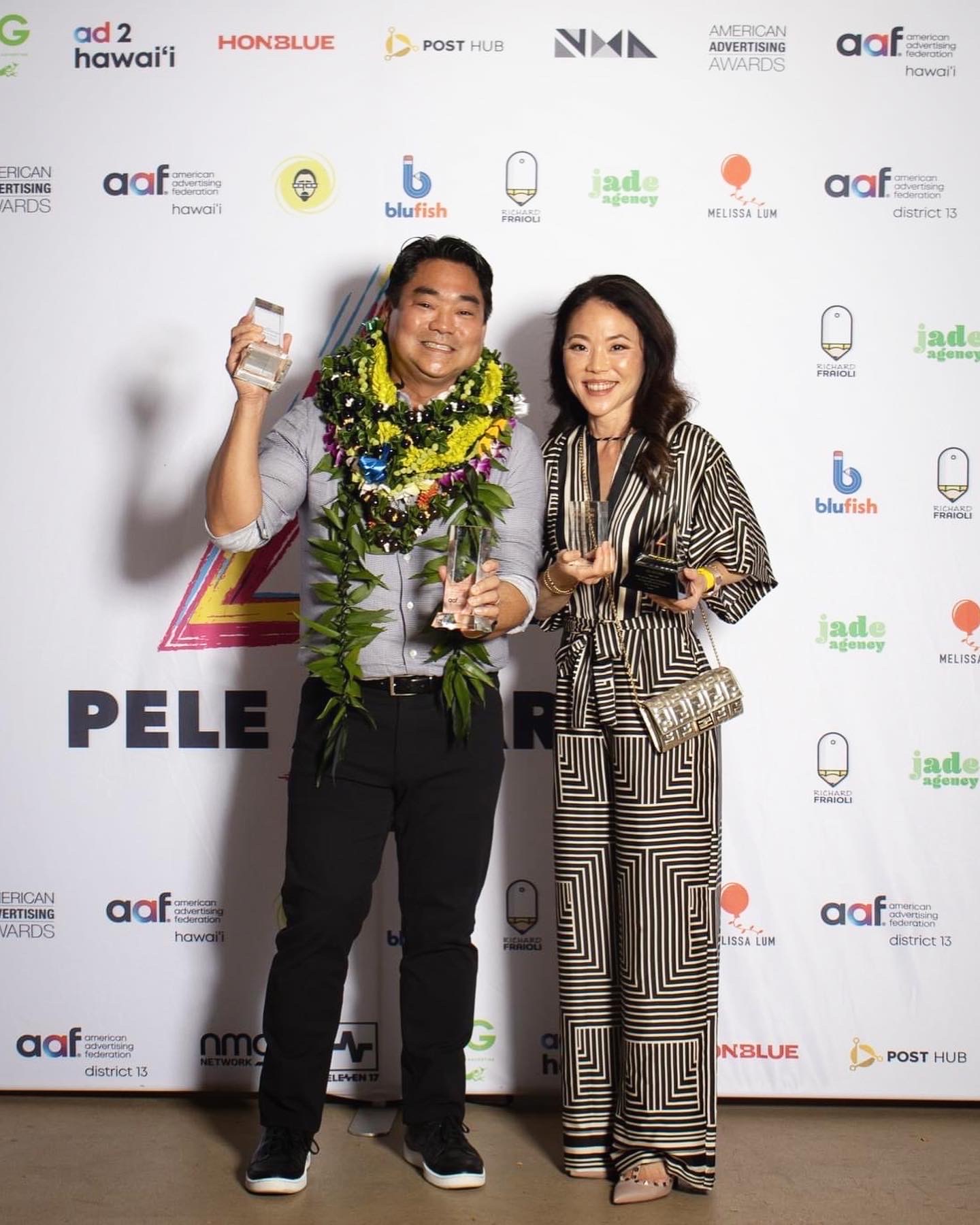 Images courtesy of Dexter Corpuz, Pele Awards and Jade Lun