In an effort to raise awareness about the crisis at Red Hill/Kapūkakī and military contamination of water, an interdisciplinary team of University of Hawaiʻi faculty and staff will participate in an online panel discussion that everyone is welcome to attend.
"Love Letters to Water" will be held from noon to 1:15 p.m. on Thursday, April 28, via Zoom. Click here to register. The event is the culmination of a social media campaign of the same name (see @UHWOHistory and @genuine_security on Instagram) celebrating women water protectors in Hawaiʻi and other sites in Oceania and Asia.
Event participants include panelists Chantell, Kapiʻolani Community College student and social media assistant; Dr. Kim Compoc, UH West Oʻahu assistant professor of History and International Women's Network Against Militarism; Dr. Tina Grandinetti, Oʻahu Water Protectors and Koa Futures; Dr. J. Lelemia Irvine, UH West Oʻahu assistant professor of Physics; and moderator Dr. Yasmine Romero, UH West Oʻahu associate professor of English.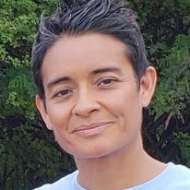 "Our 'Love Letters to Water' campaign began on International Women's Day (March 8), continued to World Water Day (March 22), and will continue to Earth Day (April 22)," explained Compoc, who received a grant from the Institute for Research and Engaged Scholarship at UH West Oʻahu to support the campaign. "We began with the goal of celebrating women water protectors both in and outside of Hawaiʻi, because unfortunately this catastrophe that happened at Red Hill/Kapūkakī is only one example of a global problem of military contamination of water." 
Compoc continued, "We want to raise awareness and extend our solidarity to so many affected communities like Guåhan (Guam), Jeju in Korea, Subic Bay in the Philippines, and elsewhere."
Panelist Irvine, an expert in water management and Indigenous grounded STEM-oriented education, added, "This panel discussion on Kapūkakī/Red Hill presents the unseen hydrophilic (water-loving) stories and examines diverse perspectives of the defueling the tanks impacts from a local to international levels."
Organizers noted that some UH West Oʻahu students have been relocated due to the recent jet fuel leak. Students throughout the UH system are invited to attend the event to speak out on this important issue.
"The water crisis in Red Hill and everywhere else in the world affects everybody," said KCC student and panelist Chantell, who was hired to assist with the campaign. "It is a race issue, gender issue, disability issue, sexuality issue, religious issue."
Click here to learn more about the crisis at Red Hill/Kapūkakī. For more about the "Love Letters to Water" social media campaign, visit UH West Oʻahu's History concentration Instagram page @UHWOHistory, as well as @genuine_security, the Instagram page for the International Women's Network Against Militarism, who are also cosponsoring the campaign.