The University of Hawaiʻi–West Oʻahu and the Oʻahu Native Nationz Organization (ONNO) are collaborating to co-host a Round Dance event — a celebration of cultural practices and unity, and featuring dancing, singing in both English and Native languages, educational tables, art for sale, and more.
The UH West Oʻahu community and the general public are welcome to attend the event, Round Dance in Paradise, which will be held from 5 to 8 p.m. on Saturday, March 12, at UH West Oʻahu's Outdoor Learning Space. Attendees will be expected to follow UH West Oʻahu's COVID-19 guidelines and all safety protocols.* For those who cannot attend, the event will be filmed and streamed live via ONNO's Facebook page. Event sponsors include UH SEED IDEAS and the Return to the Heart Foundation.
"Cultivating a community-organized and educational space, our goal is to bring together individuals from across Oʻahu and the campus community," said Dr. Christy Mello, an associate professor of Anthropology at UH West O'ahu and the co-host faculty contact. "At this special event, attendees will explore applying Indigenous wisdom for solving global issues while participating in a celebratory exchange of cultural practices."
The Round Dance, often referred to as a "Friendship Dance," has its origins with the Indigenous people of North America from the Great Plains region and is held during the winter months to maintain community and celebrate culture through singing and dancing, according to Dr. Lynnae Lawrence, president of ONNO. ONNO is a local group of American Indian and Alaska Natives (AI/AN) with a mission to educate and share AI/AN culture with the people of Hawaiʻi and to provide a sense of community to local AI/AN people.
"The Round Dance circle is a sacred symbol uniting all of creation and calling back the ancestors to join into prayer as we dance to the heartbeat of our mother the earth in a celebration of life," said Lawrence, a local physician who has been instrumental in the planning of the event. "We plan to share Native American culture with the people of Hawaiʻi in the spirit of Aloha — to join the circle and enjoy company in a healthful and healing evening of song and dance and meeting new relatives."
Lawrence is a member of the Hopi Tribe from Arizona on her mother's side and Nakoda Nation from Lodgepole, Mont., on her father's side. Throughout her many travels dancing in the pow wow arena, having won and placed in many events, she has made relations with many well-known and respected singers and dancers, several who will be attending the Round Dance in Paradise.
Event guests include the Master of Ceremonies, Whitney Rencountre II, who is Hunkpati Dakota from the Crow Creek Sioux Tribe, and singers Opie Day-Bedeau of the Bois Forte Band of Chippewas, Desirae Desnomi from Treaty 4 Territory in southern Saskatchewan and of Peeppeekisis Cree Nation, as well as Fawn Wood and Dallas Waskahat of the Cree Nation. Additional singers hailing from various First Nations groups will be flying in from the mainland to attend the event.
Night of learning, teaching, and sharing
At Round Dance in Paradise, the night will begin with opening protocol and continue with traditional Round Dance activities. Guests can expect to socialize with community and organizations from across Oʻahu, as well as visit educational tables and view art available for sale.
Event organizers welcome all in attendance to participate in dancing and assure that the Round Dance is easy to learn, consisting of dancing in a large circle, in a sidestep fashion. Men and women singers use hand drums to keep the beat. Songs are sung in both English and Native languages.
According to organizers, the event will provide an opportunity for building and strengthening relationships between students, UH West Oʻahu employees, and the broader community in an exchange of learning, teaching, and sharing of Indigenous wisdom and cultural practices.
For gaining a deeper understanding of how cultural protocols inform community and cultural resilience, Round Dance practitioners are visiting campus to engage with Kānaka Maoli cultural practitioners, kumu, and artists.
During this celebratory event, participants are encouraged to reflect upon community efficacy, survivance on Indigenous identity in cultural practices, and the contemporary value of traditions to address the challenges of diaspora and the climate change crisis affecting all of humanity.
Round Table Discussion to follow event
Mello said in addition to building relations and creating a space for celebration and reflection, the event will have a direct educational impact on students. Students will be involved in documenting Round Dance in Paradise through film, communications, event planning, and the co-hosting of the event.
Also, Mello's ANTH 390 Heritage Tourism class will assist with developing and moderating a virtual Round Table Discussion to share and reflect about the event with the Round Dance special guests, UH employees and students, as well as the general public. The Round Table Discussion will be noon to 1:30 p.m. on Wednesday, March 30, via Zoom.
Mello said her ANTH 390 students will have an assignment related to both the Round Dance and the Round Table Discussion. For the Round Table Discussion, students will help develop questions based on what they are learning, the purpose of the event, and having attended it or viewed a recording of it.
"I would encourage our campus community to attend the Round Table Discussion because it is a great opportunity to build relationships and gain a deeper understanding of a culture they may not know much about," said Kyle Atchue, who is in Mello's ANTH 390 class. "As a student primarily taking online classes, I am most looking forward to the social aspect of this event."
Atchue said it is a great opportunity to socialize and build relationships with his peers and the UH West Oʻahu community.
Breannalye Rodrigues, also a student in Mello's ANTH 390 class, said both the dance and the followup discussion are significant events that she hopes people will attend.
"These types of events strengthen communities and allow people to feel their Indigenous roots and allow them to feel comfortable in unfamiliar surroundings by also transcending globalization and allowing these cultures to come together," Rodrigues said.
She added that in today's world, while technology is supposed to bring people together, it is seemingly pulling people further apart.
"So events such as these are a good way of bringing people together again and reminding them that the virtual lifestyle we are becoming comfortable with will not serve our Indigenous communities the way it should," Rodrigues said, "and we need to take advantage of opportunities such as these and really indulge in the community we share."
Anyone with questions about the events or UH students who would like to volunteer may contact Dr. Christy Mello at melloc@hawaii.edu.
*Note: All visitors entering a University site must provide proof of being fully vaccinated against COVID-19 or provide proof of a negative COVID-19 test from a UH-recognized testing facility either through the LumiSight UH app or by showing their vaccination card or current and valid negative COVID-19 test results (test within 72 hours).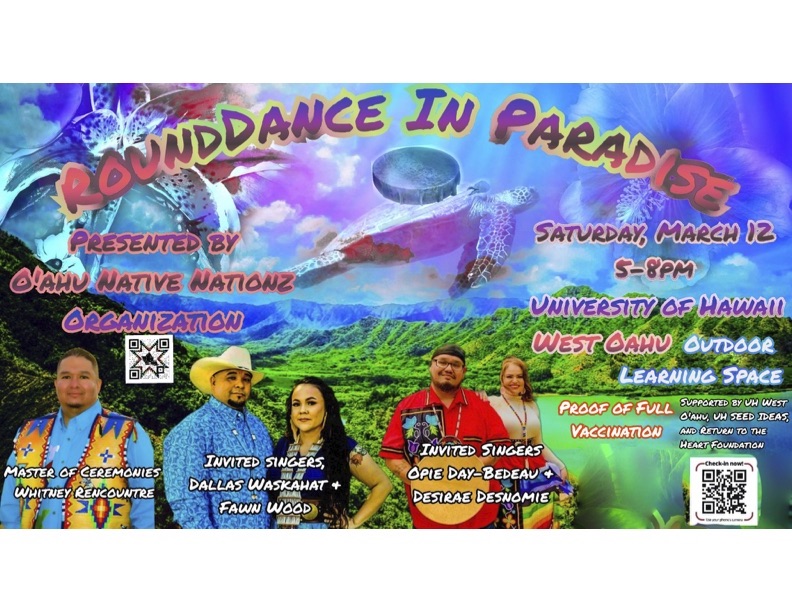 Image courtesy of O'ahu Native NationZ Organization