Safe Return to Campus
Ready, willing, and able to assist with your questions!
Launch now
Virtual Front Desk hours: 10am-2pm on weekdays
Want to talk to someone now? Reach us from the safety of your home using ZoomTM
Virtual Front Desk
Ready, willing, and able to assist with your questions!
Launch now
Virtual Front Desk hours: 10am-2pm on weekdays
Process for positive and suspected cases
UH West Oʻahu students and employees are asked to contact the campus COVID-19 Hotline at (808) 689-2525 or email covidwo@hawaii.edu if they have tested positive, are symptomatic, or have had contact with a positive case.
The UH West Oʻahu COVID-19 Response Team has an action plan set up to address each situation reported, to assist affected students and employees, and to provide information to all appropriate parties.
Daily check-ins
Daily health screening and self-monitoring will be mandatory via the LumiSight UH app and questionnaire to support CDC recommended daily self-screening of everyone that will be on our campus. Students, faculty, staff, and visitors will be expected to complete the self-screening questionnaire prior to arriving on campus.
Verify your vaccination status
Students, employees, and visitors must be vaccinated or show proof of a negative COVID-19 test to be on campus.
Proof of Vaccination
Upload your vaccination information and documentation to LumiSight UH. For those who use the app on their smartphone/mobile device, click on "Health" and then "Vaccination History." Those using the app online should click on "Vaccine" in the upper left-hand corner.
The COVID-19 vaccination is not required of students who are enrolled in only online courses and programs or in Early College courses taking place on high school campuses. Unvaccinated individuals are required to be tested weekly for the COVID-19 virus and to upload their negative test result into the LumiSight UH app prior to coming to campus. This includes unvaccinated students who received a Medical and/or Religious Exemption for the COVID-19 vaccination.
Persons claiming a medical exemption to immunization requirements must have their physician sign the Medical Exemption Form. Persons claiming religious exemption to immunization requirements must sign a Religious Exemption Waiver Form.
COVID-19 Testing for Unvaccinated Students and Employees
If you are coming to UH West Oʻahu campus you need to upload your COVID-19 Vaccination or a Negative COVID-19 test result to LumiSight.
UH is providing free PCR-type COVID-19 testing for unvaccinated UH students and employees at 24 Clinical Labs of Hawaiʻi locations across the state .
The free testing is by online appointment only, walk-ins will not be accepted.
The free testing is only for asymptomatic students and employees. If you feel ill, contact a medical provider.
If you do not utilize the free UH testing program, you must receive your test from a State of Hawaiʻi approved facility.
At-home tests will not be accepted.
Be prepared to show your LumiSight green "GO" Screen upon entering any of our indoor spaces, e.g., offices, library, labs and classrooms, student services and student life, bookstore, and so on.

Verification Stations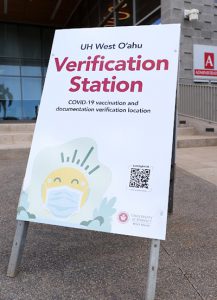 If you don't use the LumiSight UH app, bring a hard copy of either the COVID-19 Vaccination card or a Negative test result, go to the Verification Station in the Administration Building Lobby to show your documentation and a valid ID card and get a "Green LumiSight Campus Day Pass". If you do not have either a COVID-19 Vaccination card or a Negative test result you cannot come to campus. Students, contact your Academic Adviser as soon as possible at uhwoadvising@hawaii.edu, if you need assistance. Employees, If you get a "RED" screen contact Human Resources asap at ext. 2525.
Face masks and hygiene
Employees, students, and visitors must wear face mask when indoors on campus. Plexi-glass barriers have been installed as added protection in areas where employees interact with the public. Wash hands frequently with soap and water for at least 20 seconds. Use hand sanitizer containing at least 60 percent alcohol if soap and water are not available. There will be hand sanitizer stations throughout campus, including classrooms.
Physical distancing
Be mindful to stay a safe distance from others, do not gather in groups, and avoid crowds and mass gatherings. Classrooms and laboratories are reconfigured for physical distancing; desks are spaced three feet apart.
Pueo Safety Promise
Everyone who comes to the UH West Oʻahu campus — students, employees, and visitors — are asked to respect the Pueo Safety Promise.
Stay home if my temperature is higher than 100.4 or if I have been in close contact with a suspected or confirmed case.
Submit the UHWO Health APP/Web-Survey prior to coming to campus.
Wear a face covering, maintain safe physical distance, and practice good handwashing hygiene when on campus or doing university business.
Remain informed about health and safety guidelines and take steps to protect our campus staff, faculty, students, and guests.
Be kind and compassionate, caring for the well-being of our campus community.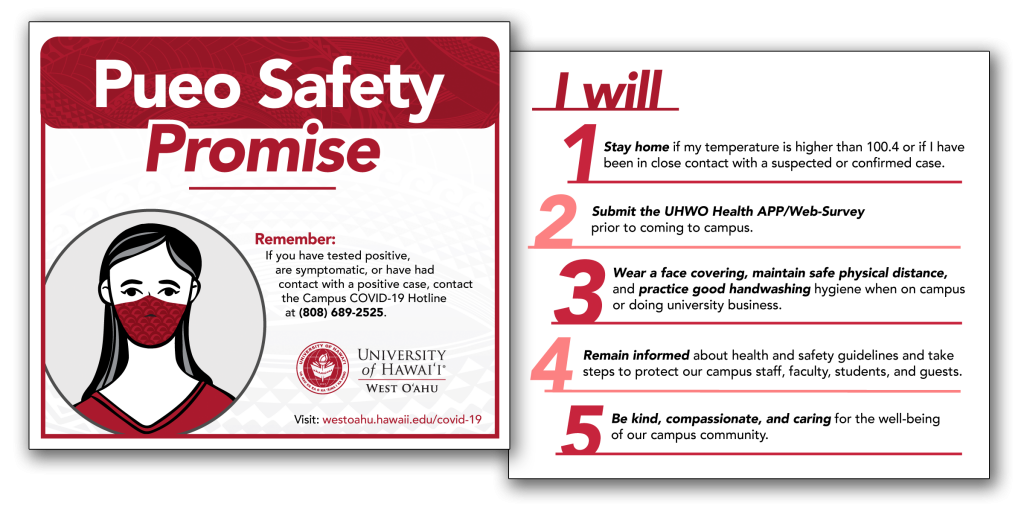 For a printable version of the Pueo Promise, download the Pueo Promise Poster here.
Daily cleaning and disinfecting
Building Services staff has been trained to provide daily cleaning and disinfection of campus facilities and spaces, including classrooms, restrooms, and elevators in accordance with CDC guidelines. This includes performing routine cleaning and disinfecting of spaces that are occupied and enhanced cleaning and disinfecting of frequently touched indoor surfaces, such as door handles, elevator buttons, faucets, and paper towel dispensers. Coordination will be made to ensure there will be appropriate time between classes to allow for effective cleaning to take place in classrooms.
Although the Building Services staff will maintain their normal cleaning processes after the classrooms and restrooms have been tended to, each employee should do their own due diligence and self-clean their work areas to ensure coverage commensurate with their work habits.
COVID-19 Hotline
Contact us if you have:
tested positive, are symptomatic, or were in contact with a positive case at (808) 689-2525 or covidwo@hawaii.edu.