Lorena Wada, whose career with the U.S. Fish and Wildlife Service spans more than 40 years, will share how she has learned how to stay true to her Hawaiʻi culture while fulfilling her duties as a federal employee.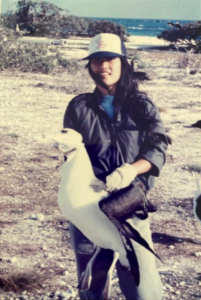 Hear her story at the online event, "Math + Science + X Seminar: Lorena Wada presents A Local Approach in a National Agency," 9 to 10 a.m. on Friday, April 23, via Zoom. Click here to register; Zoom meeting ID is 980 8630 9385.
Wada is a supervisory fish and wildlife biologist with the U.S. Fish and Wildlife Service, a national agency that has offices throughout the country including Guam, the Marianas, and Hawaiʻi. Wada works to bring the importance of local knowledge and practices to change how the agency operates in the Pacific and how the service recruits and hires local employees.
Wada will be discussing her journey and how she's trying to make things better for local students to join in the mission to protect and conserve natural resources.
Math + Science + X seminars help to promote fascinating and current STEM topics. UH West Oʻahu faculty members Dr. Olivia George and Dr. Veny Liu received SEED IDEAS funding through UH Mānoa to invite and select presenters to introduce UH West Oʻahu undergraduates to a variety of STEM research and career opportunities that incorporate transdisciplinary knowledge through the Math + Science + X seminars, as well as to enhance the UH West O'ahu faculty transdisciplinary knowledge and incorporate it into the Natural Science curricula by hosting a two-day workshop for faculty in May.
The speakers for the seminars: Kehaulani Kupihea (April 9), Dr. Rosalyn La Pier (April 16), Lorena Wada (April 23), Dr. Ranjan Rohatgi (April 30), and Tara Meggett (May 7); and speakers for the two-day faculty workshop are Drs. Todd Campbell and Ohkee Lee (May 18), and Dr. Pratim Sengupta (May 19).
For more information, email ogeorge@hawaii.edu.
Image courtesy of Lorena Wada