Community, People & Partnerships
Come and learn from community and academic experts in their fields in the Hawaiian and Indigenous Health and Healing programs. Explore bios of our graduates and keep checking back for internship opportunities. 
Hawaiian & Indigenous Health & Healing Faculty
Kauʻi Baumhofer Merritt, ScD, MPH, MA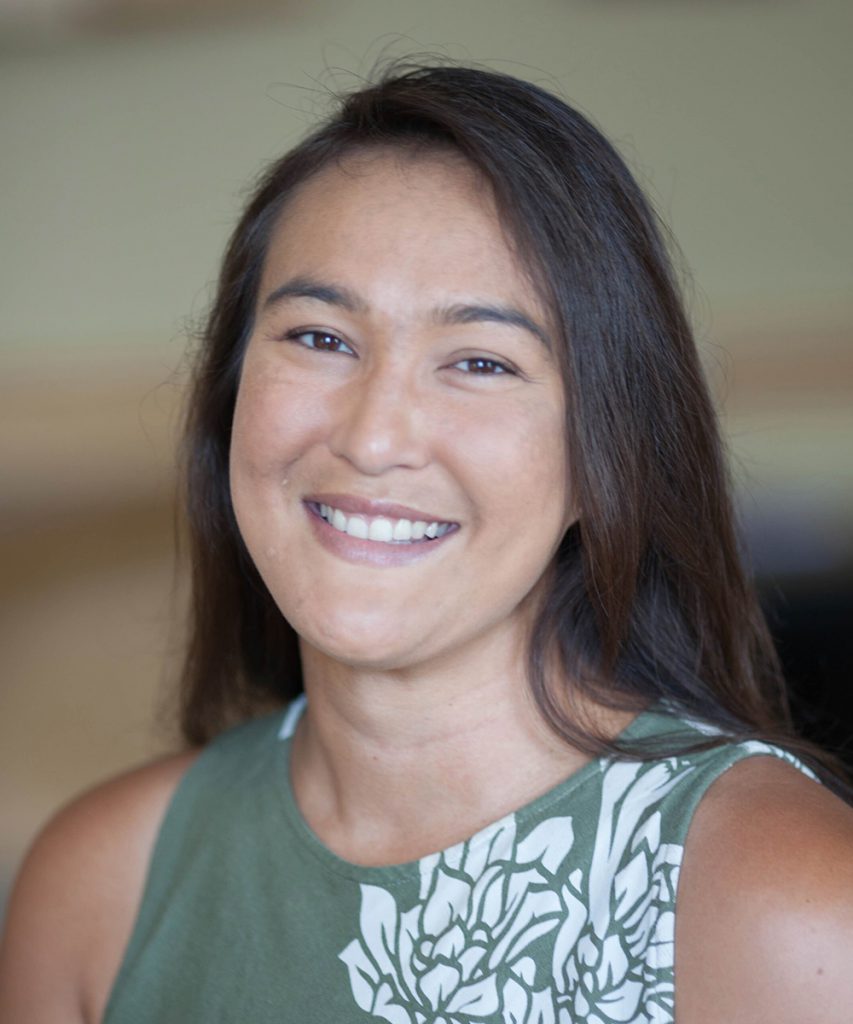 Dr. Merritt is an Assistant Professor of Indigenous Health Sciences at the University of Hawaiʻi – West Oʻahu. She currently teaches courses in the Bachelorʻs of Applied Science in Hawaiian and Indigenous Healing and Bachelorʻs of Public Administration in Community Health programs. Her research draws on concepts and theories from medicine, anthropology, sociology, psychology, and public health to examine and support a thriving indigenous foodscape with the ultimate goal of reducing cardiometabolic disparities among Native Hawaiians and other Pacific Peoples.
She holds an MA in Pacific Islands Studies from the University of Hawaiʻi at Mānoa, an MPH in Health Behavior & Health Education from the University of Michigan School of Public Health, and an ScD in Society, Human Development & Health from the Harvard University T.H. Chan School of Public Health. She has been awarded the Harvard University Native American Program's 1665 Caleb Cheeshateaumuck Pre-Doctoral Fellowship, a Certificate of Distinction in Teaching from the Harvard University Derek Bok Center for Teaching and Learning, and the 2016 Dr. Fang-Ching Sun Memorial Award for Work with Vulnerable Populations from The Chan School of Public Health.
Recent intra and extramural funding awards include: "Indigenous Knowledge Education (IKE) and the Rapid Remote Learning Pivot" (Spencer Foundation #202100070) and "Impact of neighborhood characteristics, social isolation, and diet quality on chronic inflammation" (Center for Pacific Innovations, Knowledge and Opportunities Program NIH NIGMS U54GM138062 Project #6111676).
Dr. Kauʻi Baumhofer Merritt
Assistant Professor of Indigenous Health Sciences & HIHH Faculty Contact
nicolekb@hawaii.edu
Courses Taught:
HLTH 204 Introduction to Native Hawaiian and Indigenous Health and Healing
HLTH 205 Hawaiian Ways of Healing
HLTH 360 Health Disparities and Pacific Peoples
HLTH 450 Theories of Wellness and Disease: Hawai'i and Beyond
HLTH 460 Biostatistics
HLTH 470 Research Methods for Indigenous Well-Being
PUBA 104 Introduction to Community Health
PUBA 307 Community Health Analysis
PUBA 334 Intersection of Community and Global Health
PUBA 368 Foundations of Community Health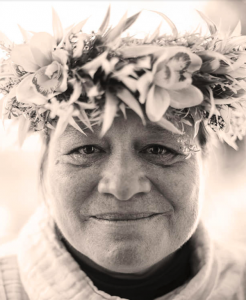 Manulani Aluli Meyer is the fifth daughter of Emma Aluli and Harry Meyer who grew up on the sands of Mokapu and Kailua beach on the island of O'ahu and along the rainy shoreline of Hilo Palikū. The Aluli ʻohana is a large and diverse group of scholar-activists dedicated to Hawaiian education, restorative justice, land reclamation, ohana healing practices, cultural revitalization, arts education, prison reform, transformational economics, food sovereignty, and Hawaiian music. Manu works in the field of indigenous epistemology and its role in world-wide awakening.
Aluli-Meyer obtained her doctorate in Philosophy of Education from Harvard (Ed.D. 1998). Her background is in wilderness education, coaching, and experiential learning. She has been an Instructor for Outward Bound, Hawaii Bound, a coach for Special Olympics in three states, and a passionate advocate for the Hawaiian Charter School movement. Dr. Aluli Meyer has been an Associate Professor of Education at UH Hilo and spent five years in New Zealand as the lead designer/teacher for He Waka Hiringa, an innovative and accredited Masters of Applied Indigenous Knowledge at Te Wānanga o Aotearoa. Dr. Aluli-Meyer is currently working at UH West O'ahu to help contextualize higher learning within a Hawaiian worldview. Manu is a wahine kalai pohaku (stone carver) along with lei ano and lei hala maker (seed leis). She is dedicated to Indigenous food security and works to bring the coconut back into daily use. She is also a 30+ year practitioner of hoʻoponopono who appreciates and learns from the purpose of conflict.
Dr. Manulani Meyer
Konohiki for Kūlana o Kapōlei & Associate Specialist
manulani@hawaii.edu
Courses Taught:
Nohona Hawai'i
HLTH 300 Ho'oponopono Novice Level A
HLTH 400 Ho'oponopono Novice Level B
Ms. Katherine Burke, PhD(c), MPH
Katherine Burke is a lecturer in Hawaiian and Indigenous Health and Healing and Director of the Mapuna Lab at the University of Hawaiʻi – West Oʻahu. She currently teaches courses in the Bachelorʻs of Applied Science in Hawaiian and Indigenous Healing program. Her research areas include social determinants of health, health equity, cultural safety, social justice and ancestral connection which she pursues in the Department of Social Work at the Thompson School of Social Work and Public Health at the University of Hawaiʻi at Mānoa where she leads the Māpuna Lab in serving the Alcohol and Drug Abuse Division of the Behavioral Health Administration of the Hawaiʻi State Department of Health. An evaluator by trade she holds a bachelor's degree in Neuroscience and Behavior from Mount Holyoke College and a master's degree in public health, social and behavioral health sciences from the University of Hawaiʻi at Mānoa where she is currently pursuing a doctoral degree in Community-Based and Translational Research. Burke is of Hellenic (Peloponnese), Irish (County Mayo), French (Île-de-France), Bavarian and Romanche ancestry and was given a love for the role of plants in public health by her grandfather and her great grandmother.  As a settler transplant she is passionate about our plant ancestors and how we can overcome plant blindness by connecting with our genealogy and caring for the land and water system that feed us through practices she learned on the ʻili ʻāina of ʻOuaua and Māluawai in the ahupuaʻa of Kalihilihiolaumiha from aloha ʻāina leadership at Ho'oulu 'Āina.
Katherine Burke
Lecturer, HIHH, Mathematics, Natural, and Health Sciences Division
Director, Mapuna Lab, Institute for Research and Engaged Scholarship
Courses Taught:
HLTH 204 Introduction to Hawaiian and Indigenous Health and Healing
HLTH 470 Research Methods for Indigenous Well-Being
Moanalani Jones-Wong, BAS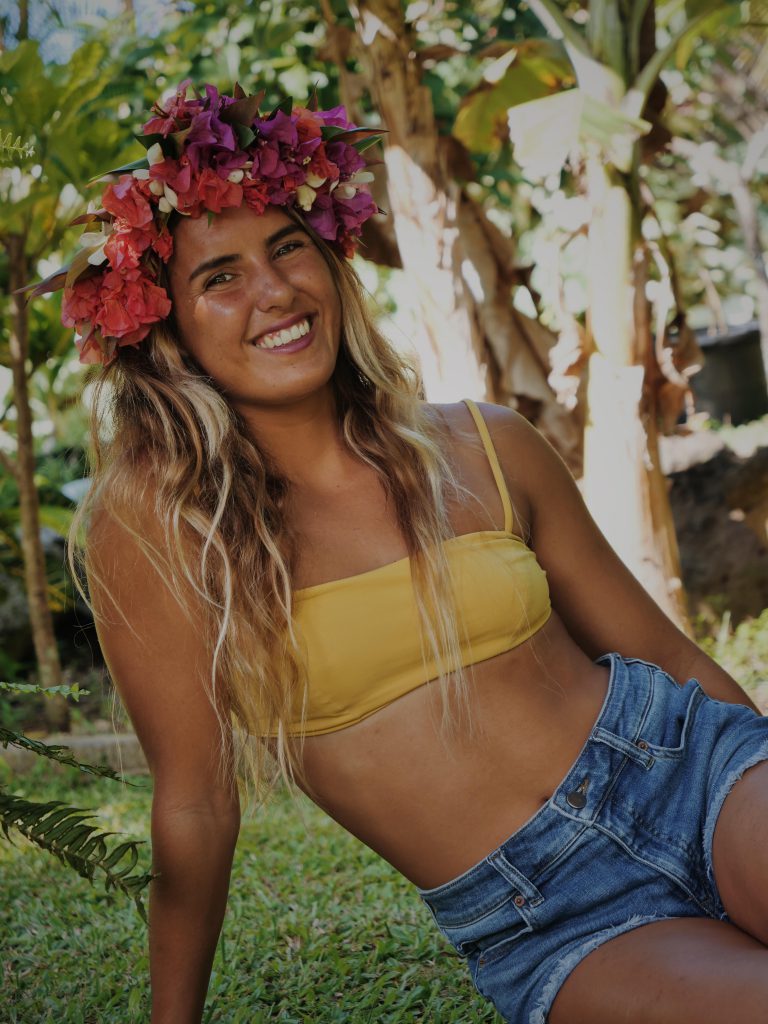 BAS-HIHH, Spring 2021
Thesis title: Surfing – More than a sport
Christine Park, PhD, LMHC, NCC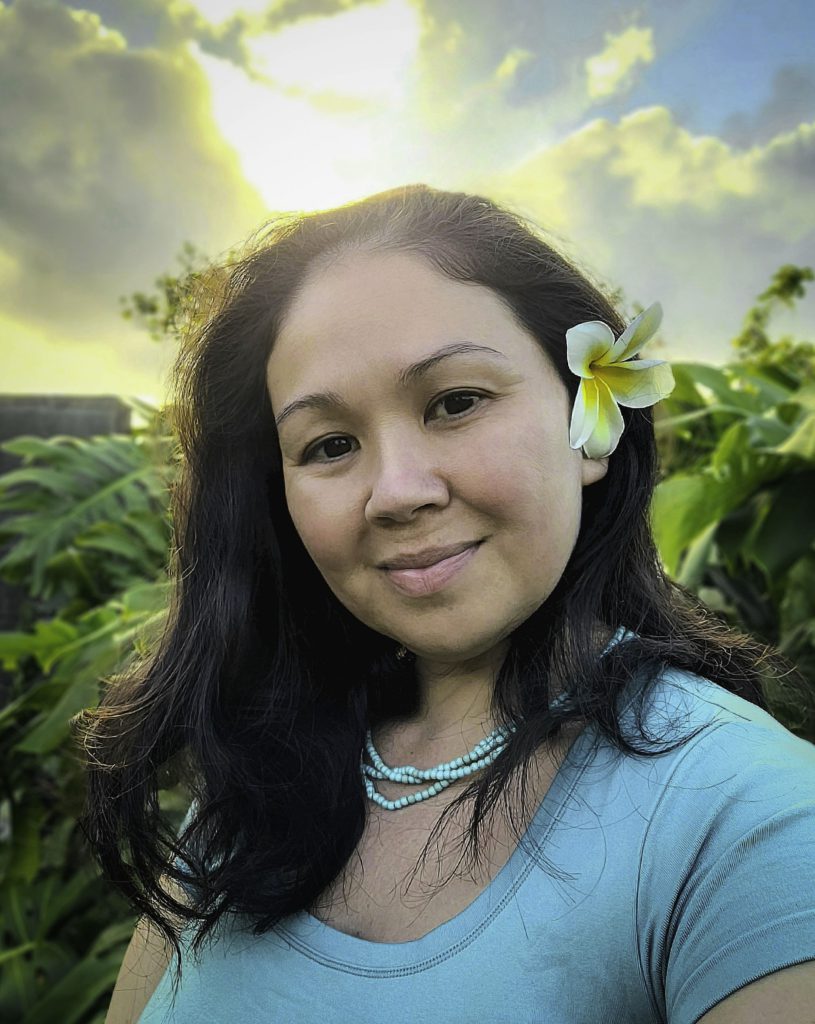 CERT-HIHH, Fall 2022
The HIHH certificate program is an amazing opportunity to learn about Native Hawaiian well-being and healing modalities. The program provides a nice balance of historical and contemporary content, and the information in the courses is essential and relevant. As someone who was born and raised, and who lives and works in Hawaiʻi, this program has helped me to be a better provider in our community. This certificate program was the best investment I made and furthered my education and professional competence in the fields of mental health and education.
BAS-HIHH, Fall 2022 Thesis title: Addiction Intervention Native Approach ('ĀINA) Aloha mai kākou! My name is Kaela Cachola-Tom! I recently graduated with my bachelor's in Hawaiian and Indigenous Health and Healing in the spring of 2023. My journey started in 2019 as a senior who graduated from Moanalua High School. Like most, I had no clear idea of what I wanted to major in. In my freshman year, I started off as a business major with a concentration in hospitality in tourism, It was interesting but I didnʻt feel fulfilled. A year later, COVID-19 hit. One day, I had a random feeling to go on the UHWO website and explore the different majors. I scrolled for two minutes and came across HIHH. The moment I read the major description, I instantly felt called to switch! It was a feeling I will never forget. I felt it in my naʻau (gut) that this was my calling. From the moment I switched, I received so many hōʻailonaʻs (signs) from my kupuna (ancestors) that I was on the right path, and to this day I still receive many of them! In HIHH, I felt fulfilled. I've met so many awesome people and made lifelong connections with those who are interested in the same things as me. Switching to HIHH was the best decision I've made. HIHH is really interesting because we learn about the historical, political, social, and environmental factors that contribute to the many health disparities that Native Hawaiians and Pacific Islanders face. With this understanding, we are able to see the connection and much-needed implementation of indigenous healing practices. It was really rewarding to learn from brilliant Kumus (teachers) who were very knowledgeable in hoʻoponopono, lāʻau lapaʻau, and lomilomi. I accredit the connections and relationships I have now, to HIHH. For my senior project, I focused on using ʻāina (the land) as a healing modality to heal Native Hawaiians suffering from substance misuse. HIHH opened many doors of exploration for me for my future. Currently, I work for KUPU, a non-profit organization that focuses on conservation, sustainability, and environmental education with a focus on ʻāina based learning. I work in the DOE high schools to provide teaching resources that allow teachers to embed Hawaiian culture and values in their curriculum. To make the connection about what I teach in the classroom, I provide hands-on experience by bringing the students to ʻāina/conservation sites for field trips, as it highlights the importance of mālama and aloha ʻāina (Taking care and loving the land). This is in hopes of inspiring the next generation of ʻāina stewards. In the future, I hope to work in the field of substance misuse prevention for Native Hawaiian youth by incorporating ʻāina as a way of healing. With so much aloha, I canʻt thank all the Kumuʻs enough who have shared their ʻike (knowledge) with me over the past 4 years. I can't wait to dedicate my life to healing the lāhui (Hawaiian nation).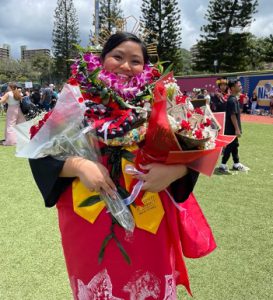 CERT-HIHH, Spring 2023 The HIHH certificate program contained information about the Native Hawaiian pillars of health, well-being, addressed how historical and current issues affect our NH and indigenous populations, and opened opportunities for discussion of how we, as a community, can work to address these issues. The program not only provided a deep dive into NH traditions/issues, but also allowed me to delve into my mo'okū'auhau (genealogy) as a first-generation Filipino-American college student. Overall, the program allowed me to establish connections within myself and my family, it gave me a sense of belonging in both my culture and the community I grew up in, and further solidified my desire to provide for these communities in the future. As an aspiring healthcare provider, I expect to use my education in Native Hawaiian health, cultural medicinal preferences, and history to practice cultural competence, compassion, and ultimately give back to the communities that nourished and cared for me too.
Partnerships and Internships
If you are interested in becoming a community partner or would like to host a student intern please contact Dr. Merritt at
nicolekb@hawaii.edu