The University of Hawaiʻi–West Oʻahu showcased itʻs indigenous-serving initiatives and new facilities to Congressman Ed Case, who visited the campus on Monday, April 5. Case toured the Nāulu Center, Hale Kuahuokalā and Student Organic Garden, and the new Creative Media Facility, meeting with campus administrators, faculty, and alumni.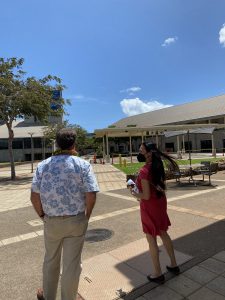 Chancellor Maenette Benham shared the work of the campus in securing Title III grants, which serves a student population that is 29.2% Native Hawaiian and 22.8% Filipino. UH West Oʻahuʻs numerous grants support education through a partnership with Leeward Community College, distance learning with Kauaʻi Community College, and indigenous education, health, and well-being, among others.
UH West Oʻahu alum Christielove Aloha Espinosa said she was glad that Congressman Case was able to "witness the greatness that is UH West Oʻahu." Espinosa is currently pursuing her Ph.D. in Sociology at UH Mānoa, which she said was made possible through connections and familial relations with UH West Oʻahu. While she was a student at UH West Oʻahu, Espinosa worked on the PIKO Project, a Title III grant program. Her exposure to course and grant work while at UH West Oʻahu "highlighted me as a leader and one of those more culturally competent students" in the area of research that she is pursuing, which is indigenous theory and scholarship.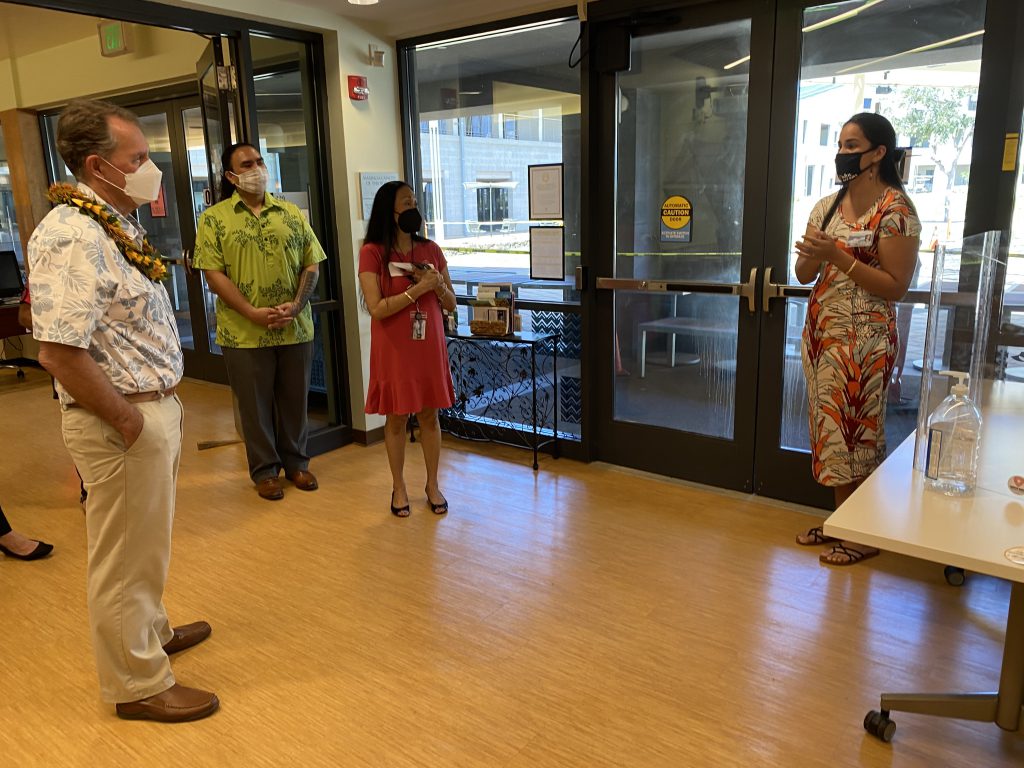 At Hale Kuahuokalā and Student Organic Garden, Dr. Albie Miles, Assistant Professor of Sustainable Community Food Systems, shared that his program is "transdisciplinary in nature, not purely theory – itʻs about understanding complex, interrelated social, ecological, political, economic issues in the food system. And helping our Native Hawaiian, Pacific Islander and other youth understand that system from a multidisciplinary angle. Help them understand what is broken about the system, what needs to change, and position them in leadership roles so that they can help make this transformation happen."
Through grant funding, students like alum Rainbow Uliʻi are able to get "mentored by experts in the field and provide them with (scholarship) support to help them pursue their research," Miles said. Case encouraged the campus to continue pursuing grants: "Federal, indigenous grants are good ones for us to always try for. The chances are better for us in Hawaiʻi than many other places in the country."
At the new Creative Media Facility, Academy for Creative Media-UH West Oʻahu Director Sharla Hanaoka said that the program is designed to address workforce needs for Hawaiʻi businesses by educating students in a variety of content creation including video, animation, video games, social media, and design and digital storytelling.
"It was a need we had to fill," she said. "How many students would move to the Mainland to work? Our students need living-wage jobs, and that is why we are really successful at getting them employed."
"And staying home," Chancellor Benham emphasized.