Building forts with family. Doing yoga. Enjoying Zoom game nights with friends. Fishing. Gardening. Going on daily walks. Making lau lau. These are just some of the ways University of Hawaiʻi–West Oʻahu faculty and staff have been coping through COVID-19, which has upended our world and disrupted our lives over the past year.
It was on March 11, 2020, when the World Health Organization declared the coronavirus a pandemic. Less than two weeks later, on March 23, 2020, the 10-campus UH system moved to online delivery of courses for the first day of instruction after spring break.
It was also on March 23, 2020, when the UH West Oʻahu Communications Department launched "Coping Through COVID," a weekly series by and for our faculty and staff to share how they are personally coping through the ongoing COVID-19 situation. The series aimed to not only share survival strategies, but to also bring the campus ʻohana together and help everyone continue to stay connected as we pivoted into a more remote way of life.
UH West Oʻahu Chancellor Maenette Benham kicked off the "Coping Through COVID" series, talking about preparing her own two teens for distance learning while also trying to keep to a routine during their extended spring break.
"This past week was a bit sketchy with the kids, but we're getting into a flow now," Benham wrote. "One more week of break and then ease into online learning. Whew!"
Since then, we have heard from more than 50 UH West Oʻahu faculty and staff on how they have been maintaining their mental, physical, and emotional well-being during these challenging times. They also submitted photos depicting their new normal — sharing work spaces with pets, spending more time with their kids, or trying out new recipes in the kitchen.
Today, March 23, we commemorate exactly one year of our "Coping Through COVID" series by highlighting what some have shared — coping mechanisms, unique tips, and new or favorite pastimes — that helped them get through the past year and will continue to help them persevere through the pandemic.
The peace and joy of nature
Many shared that they sought solace outdoors, in all the natural beauty our islands have to offer.
"I spent time gardening and harvesting, both in my own little garden at home and at the UH West Oʻahu Student Organic Garden," wrote Veny Liu, assistant professor in Mathematics.
When stay-at-home orders were lifted, Liu said she enjoyed the outdoors as much as she could by hiking and swimming around Oʻahu and visiting the neighboring islands.
"I was even able to cross off a bucket-list item: hiking and camping the Kalalau Trail on beautiful Kauaʻi," Liu wrote.
Jon Magnussen, associate professor of Music and chair of the Humanities Division, has been enjoying the benefits of "salt water therapy," often heading to the water for late afternoon surf sessions with his daughters or early morning body surf sessions with high school buddies.
Magnussen wrote, "A tough week of non-stop computer work? Makapuʻu has a cure. Stressing out trying to make Zoom into a workable classroom? ʻTennis Courts' (Ala Moana) can smooth that out. And though times sure are different now, the water … has a way of reminding me of what's most important: Live in the moment. Enjoy the world around you. And don't be afraid to take risks."
Like Magnussen, Esther Widiasih, associate professor in Mathematics, found the ocean to be a sanctuary and a place of joy during the quarantine for her family. Widiasih, her wife, Sarah, and their young son visit the beach at least once a week.
"Our favorite time with Sonny is early morning when Waikīkī is practically empty, except for local fishermen and kūpuna boogie boarders," Widiasih wrote. "The beach is so peaceful and inviting."
She continued, "As paddlers, since the six-man canoe paddling practice and races have been suspended, Sarah and I have been focusing more on our one-man paddling. We go out a couple of times a week, trying out more adventurous runs, like Hawaiʻi Kai to Magic Island."
Pastimes and projects
Enjoying simple pastimes, such as catching up on classic reads and watching favorite shows, as well as accomplishing projects around the home, like organizing and redecorating, proved to be popular coping mechanisms for many.
Ric Custodio, associate professor of Health Science, shared that playing and writing music helps him carry on during these challenging times with patience, tolerance, and gratitude.
"Guitar is my first instrument, but drums and percussion are my favorite," he wrote. "There is something about getting lost in the 'zone' of becoming one with the beat that is uplifting and magical. There is something about creating new songs that transcends our present human condition."
Public Services librarian Carina Chernisky, who lives with her partner and two cats, said one big perk of the pandemic has been their new appreciation of and joy for cooking.
"Pre-pandemic, we would frequently pick up takeout or stop in to eat at restaurants," she wrote. "Now, we have fun preparing our own food and the Instant Pot has become our new best friend."
Chernisky continued, "From pot roast, to murgh makhani, to creamy mac and cheese — we have been dining well. My partner started experimenting with making his own pizza dough, and within just a few weeks he had perfected his recipe and crusts. I have had some of the best pizza, made with love, straight out of my basic old oven. Seriously!"
Richard Jones, professor of Science Education and director of the Veterans Empowered Through STEM Program, is grateful for the opportunity to focus on his many UFOs — "Un Finished Objects" — around work and home.
Jones added, "COVID-19, with the changes in how I do my daily work, has given me time — time that I have been able to use to share the process of bread baking with my wife (MaryAnn). After binge watching 'The Great British Baking Show,' we have spent months trying to perfect, well not quite, our whole grain sourdough flaxseed bread."
"It is amazing, but no batch is ever quite the same," Jones wrote. "But we are getting there."
Family time
An appreciation for loved ones — pets too, of course — and being able to spend more time with family was the most common "Coping Through COVID" submission among UH West Oʻahu faculty and staff. Two submissions even announced joyous news of growing families — the marriage last year of assistant professor of Indigenous Health Sciences Kauʻi Baumhofer Merritt to her husband, Alex, and the arrival later this year of another member to the family of Marnelli Joy Ulep, program development manager with the Business Administration Division. (Congratulations!)
Rebecca Romine, assistant professor of Biology, said while she hopes to return to a new normal soon, in the meantime she is enjoying the moments she has with her family.
"I'm taking time each day to spend special time with my husband and each of my kids, going on walks, playing board games, and having them teach ME their favorite things — playing piano, skateboarding, and playing Fortnite!" Romine wrote.
For Michael Furuto, division chair of Mathematics, Natural and Health Sciences, and associate professor of Mathematics, every day at home with his four young keiki is an adventure, he said.
"While adjusting to COVID-19 with the kiddos doing distance learning from home and up to five simultaneous Zoom/WebEx meetings was not easy, I'm a firm believer that challenge is synonymous to opportunity," Furuto wrote. "As a family, we've been fortunate to spend more quality time together, camping and BBQing on the North Shore, bodyboarding and crab hunting at the beach, and overall strengthening family bonds."
Business instructor Leslie Rush said her family of four has reexamined what family time was pre-COVID-19 and what family time means now.
"New rituals and traditions have taken up residence in our home," Rush wrote. "Friday fun nights are movies on the wall and popcorn. Saturdays are working in the garden and baking. Sundays are live streaming church and board games."
Rush added, "It's all hands on deck right now, but we are healthy. We are safe. We have food and shelter. We have computers to distance learn. We have each other. We are very blessed."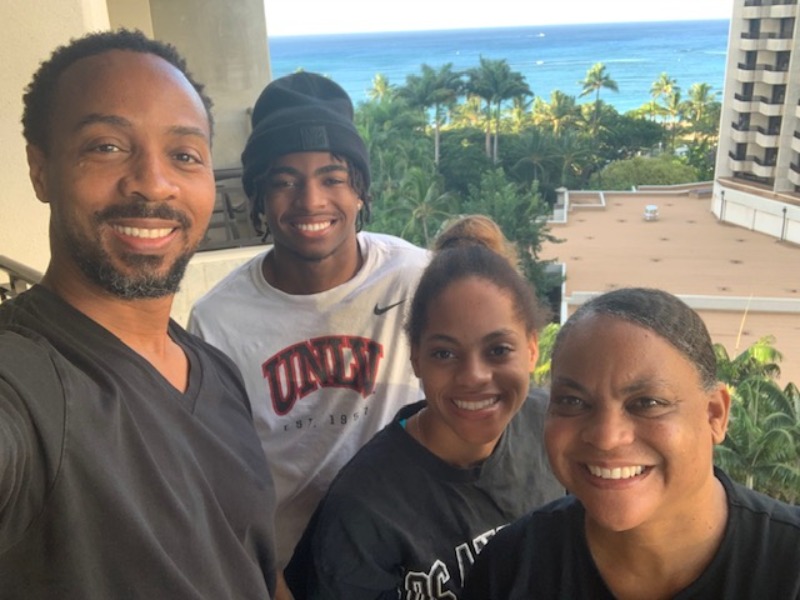 Images courtesy of Monique, Camonia Graham-Tutt and Anita Tanner