The significance of a new album titled "Kāwili," featuring Philippine music translated into Hawaiian, will be among the topics of an online discussion with speakers including Kim Compoc, assistant professor of History at the University of Hawai'i–West O'ahu.
The event, "Alliance & Affinity: Kāwili and Memories/Futures of Philippine Hawaiian Relations in Hawai'i," will be held 6:30 to 7:30 p.m. Tuesday, March 2, via Facebook Live. UH West O'ahu students, faculty, and staff, and the general public are welcome to attend.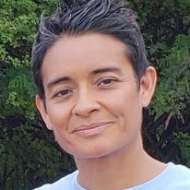 "This is a really important album to celebrate the beauty of our languages and the power of music to heal," Compoc said. "Many of us with ancestry from the Philippines have been settling in Hawai'i for well over 100 years, yet we don't always know how to show our support for the Hawaiian struggle for self-determination. This album is a positive step in that direction."
In addition to Compoc, the webinar features speakers Dean Saranillio, Jordan Ragasa, and Lance D. Collins, who is presenting the event and is also co-producer of Kāwili. The panel will discuss the significance of the album, as well as other forms and practices of critical alliance and solidarity Philippine immigrants and their descendants have undertaken and can undertake to contest and countermand the operation and effects of settler colonialism in Hawai'i.
The newly released album features over a dozen local musicians and singers reinterpreting traditional Philippine folksongs as Hawaiian mele, and includes "Aloha 'Oe" and "Hawai'i Aloha" translated into Ilokano. Kāwili seeks to re-envision the encounter between Filipino and Hawaiian cultures, peoples, identities, and languages in Hawai'i.
The album is available via mele.com. Proceeds from the sale of the album will benefit the Refugee & Immigration Law Clinic at the William S. Richardson School of Law and the Ilokano Language and Literature Program at the University of Hawai'i at Mānoa.
Images courtesy of UHWO Staff and mele.com