Martin Luther King Jr. Day (January 20th)
January 13, 2021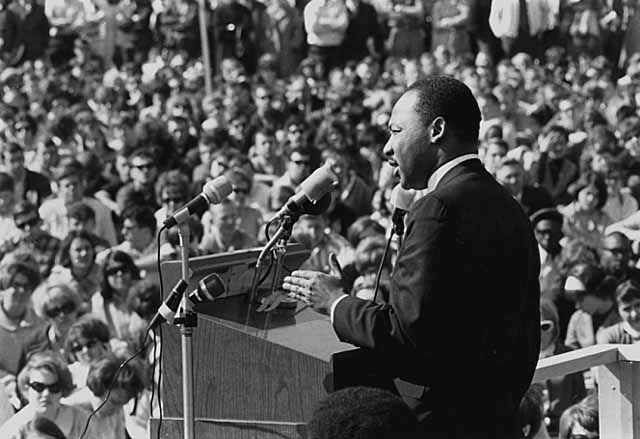 As the name would suggest, this holiday celebrates the deeds and dreams of Martin Luther King Jr., one of the prominent faces of America's civil rights movement and who famously fought for equality and the abolishment of segregation in the '60s. His movement was a nonviolent case of civil disobedience which brought attention to the poor and racially discriminated against, and his vision for his country has been cemented as the core for the modern progressive movement. 
Though efforts to observe a holiday in his honor have been in the works since as early as 1969, it finally became a reality when President Ronald Regan wrote it into law in 1983. The first official observance of Martin Luther King Jr. Day happened in 1986, and has continued to be celebrated on the third Monday of January (on his birthday).
This holiday is traditionally celebrated with parades and speeches by civil rights and political leaders around the country. Schools take this opportunity to teach curriculum about the civil rights movement, and most state and federal offices have the day off. So take what time you have and try to make a difference in the world!
eBooks
Books
Judgment days : Lyndon Baines Johnson, Martin Luther King, Jr., and the laws that changed America (link)


Location: E847.2 .K67 2005

Pillar of fire : America in the King years, 1963-65 (link)


Location: E185.61 .B7915 1998
Videos
Citizen King (link)
Location: DVD 41
Martin Luther King : I have a dream (link)
Location: VHS 116
Eyes on the prize : America's civil rights years 1954-1965 (link)
Location: VHS 41 [

Part 6 specifically]
Streaming Videos
The speeches of Martin Luther King (link)
Significance of Martin Luther King, Jr. Day. (link)
African-American community in Hawaiʻi : Martin Luther King Day (link)
Quotes
"We must use time creatively, in the knowledge that the time is always ripe to do right."

"An individual has not started living until he can rise above the narrow confines of his individualistic concerns to the broader concerns of all humanity."

"It is not enough to say we must not wage war. It is necessary to love peace and sacrifice for it."

"If you can't fly then run, if you can't run then walk, if you can't walk then crawl, but whatever you do you have to keep moving forward."

"We must accept finite disappointment, but never lose infinite hope."

"A riot is the language of the unheard."

"The ultimate measure of a man is not where he stands in moments of comfort and convenience, but where he stands at times of challenge and controversy."

"When you are right you cannot be too radical; when you are wrong, you cannot be too conservative. "

"Change does not roll in on the wheels of inevitability, but comes through continuous struggle."

"We will remember not the words of our enemies, but the silence of our friends."

"Never forget that everything Hitler did in Germany was legal."

"I want to be the white man's brother, not his brother-in-law."
Author
This post was authored by Devan Meinhart, a former Library Circulation Student Assistant and UH-West Oʻahu student. Devan majored in Creative Media and graduated in Spring 2020!
[About the header image: "Martin Luther King Jr. at St. Paul Campus" by Minnesota Historical Society has a CC-BY-SA 2.0 license and was retrieved from Wikimedia Commons.]
Back to all News & Events