As part of Filipino American History Month, the University of Hawai'i–West O'ahu will host the Pamantasan UnConference, a UH System-wide event that celebrates and aims to elevate the Filipinx community.
This year's event — themed "Together We RISE – Reimagine, Innovate, Spark, and Elevate!" — takes place from 10 a.m. to 2 p.m. on Friday, Oct. 21. The hybrid conference will be held virtually via Zoom and in person on campus at UH West O'ahu. The event is presented by the UH West O'ahu Kapwa Advisory Committee.
"The annual Pamantasan conference is a great time for folks to network with the Filipino community across the system and reconnect with others they may not have spoken to in a while," said event co-organizer Marnelli Joy B. Ulep, Program Development Manager for the Business Administration Division. "This year, we are using the UnConference method to help facilitate conversations and discussions about topics that are of interest and concern to our community."
The "unconference" format is essentially a conference without predefined topics. There is a high-level structure and theme, but actual topics are generated by the participants, and breakout groups are formed dynamically based on interest and relevance. Organizers hope this experience will encourage participants to be engaged in their own learning and contribute to rich, dynamic, and meaningful conversations.
The Pamantasan program features keynote speaker Dr. Jessica Dionela Petalio, Filipina American Behavioral Health Postdoctoral Fellow at Wai'anae Coast Comprehensive Health Center.
Petalio, from the San Francisco Bay Area, has researched, published, and delivered lectures, workshops, and presentations across the United States on issues impacting Filipina/x/o American mental health such as colonial mentality, microaggressions, internalized oppression, racial microaggressions, internalized oppression, colonial mentality, and Filipina/x/o values (e.g., kapwa, utang na loob, hiya).
As a researcher, educator, activist, organizer, and clinical practitioner, she is committed to creating effective and culturally relevant interventions in the spaces of education, community, and clinical practice.
In addition to Petalio's keynote address, the program will include the announcement of the recipients of this year's Pamantasan awards, the Dr. Ernest "Niki" Libarios Outstanding Filipina/o Faculty & Staff Award and the Dr. Julius Bajet Soria Outstanding Filipina/o Student Award.
Lunch for in-person attendees will be provided by Julie'Z Restaurant, which specializes in Filipino cuisine. There will also be pastries from Valerio's Tropical Bakeshop and ice cream from Sage Creamery.
In Filipino, pamantasan means institute for higher learning. As its name suggests, higher education has been the central interest of the Pamantasan Council since its establishment in 1987. Comprised of Filipinx administrators, faculty, and staff from across the ten campuses of the University of Hawai'i System, Pamantasan advocates for ​the representation of Filipino-American and Philippine representation in university curricula as well as to support and to recognize achievements in higher education among Filipina/os.
The Pamantasan conference is hosted by a different campus each year. This is the second time UH West O'ahu is hosting; the first time was in 2015.
Click here to register for the Pamantasan UnConference, which is open to students, professionals, and community members. The deadline for registration is Monday, Oct. 17.
Click here for more information about the event, including costs. Scholarships are available to cover the registration costs of UH West O'ahu students who plan to attend in person. Virtual registration is free.
If you have any questions, including inquiries about registering or volunteering, email the UH West O'ahu Kapwa Advisory Committee at kapwa@hawaii.edu.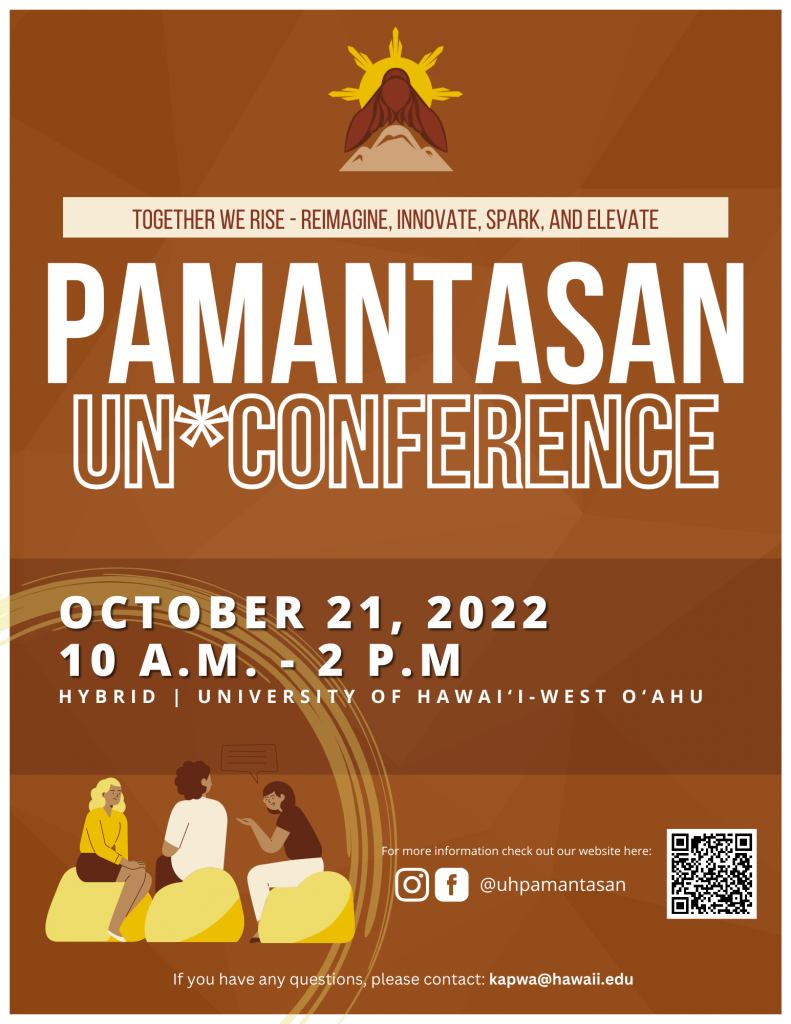 Image courtesy of UHWO Staff