University of Hawai'i–West O'ahu student Monica Aiwohi-Makekau, a single mother of five and the first in her family to attend college, is looking forward to a brighter future.
The Wai'anae resident has persevered through school, work, and family hardships, and will graduate with honors this semester with a Bachelor of Arts in Public Administration with a concentration in Disaster Preparedness and Emergency Management.
"It has been a journey. It has not been easy. But it is not impossible," Aiwohi-Makekau proudly said while standing at a podium in front of a captivated audience.
Aiwohi-Makekau shared her moving and inspiring story at the He Lei Mahalo – UH West O'ahu Scholarship Luncheon, which took place Sept. 30 on campus. Presented by UH West O'ahu and the University of Hawai'i Foundation, the event honored the generous donors who made gifts to support student scholarships at UH West O'ahu and celebrated the student scholarship recipients.
"There are a lot times people say, 'What is it that's going to push you to go to higher levels?' What pushes you and motivates you is people believing in you. And that is what the donors are to me," Aiwohi-Makekau said. "You are individuals who believed in us as students to go ahead and give us that extra fire."
Aiwohi-Makekau is the recipient of the Charles R. Hemenway Scholarship – UH West O'ahu Fund, Disaster Preparedness and Emergency Management Scholarship at UH West O'ahu, and Kalaeloa Partners Scholarship at UHWO.
He Lei Mahalo welcomed about a hundred attendees — UH West O'ahu students, donors, supporters, administrators, faculty, and staff — and included musical entertainment by students and a buffet lunch provided by Da Spot. The scholarship luncheon allowed guests to talk story and was an opportunity for donors to hear about the impact they made in students' lives and for students to express their gratitude.
"It's so wonderful to have our students together with our very gracious and honored donors in the same space, so mahalo to everyone," said UH West O'ahu Chancellor Maenette Benham, who noted that the last scholarship luncheon was held three years ago in fall 2019.
Following Benham's words of aloha was Karla Zarate-Ramirez, Associate Vice President, Major Gifts, at UH Foundation, the central fundraising organization for the UH System. Zarate-Ramirez said the foundation last year distributed $12.7M to students throughout UH System's 10 campuses.
"Thanks to the generosity in this room and to the donors who couldn't be here today, last year we awarded $300,000 to 124 UH West O'ahu students," Zarate-Ramirez said. "And I'm pleased to say this year we are awarding $400,000, which will benefit even more students this academic year."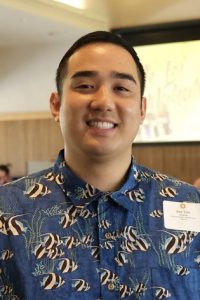 These students include Eriz Souphab, a guest at the scholarship luncheon and a recipient of the UH Equity & Access Fund.
Souphab, of Wai'anae, said he is "deeply appreciative" for the financial assistance that will go toward his education and plans to continue working hard. He is majoring in Cybersecurity and pursuing a Bachelor of Applied Science in Information Security and Assurance.
"This scholarship means a lot to me as I didn't expect at all to be receiving any type of scholarship," Souphab said. "I am truly grateful. … These opportunities are not easy to come by."
Student Wahliya Kessell-Fay, a resident of Mā'ili, is pursuing a Bachelor of Applied Science in Sustainable Community Food Systems. She is the recipient of the Antone and Edene Vidinha Trust Scholarship and the E.E. Black Scholarship at UH Foundation.
"It's a really big blessing," Kessell-Fay said during the scholarship luncheon. "It allows me to be in this space and I grew up never thinking that I could be in a college academic space just because of my background, coming from a very low-income family. So for me, it's really nice."
Kessell-Fay said she is "super thankful" to her donors for not only uplifting her, but also giving back to others because Kessell-Fay plans to go into sustainable farming to help the community.
"So I would just say thank you to them for giving back to us younger people so we can give back to the next younger (generation)," she said.
Among the donors and scholarship representatives at the event were Hali'amaka Gora and Jeanine DeFries with the Hawai'i Pacific Foundation.
"I love this aspect of the job, being able to go out and actually meet the people that we're supporting and helping to further their dreams," said Gora, an accountant and bookkeeper with the foundation. … "It's great to be able to talk to everyone and get to know how they're feeling and how much it's helped them. And it's just nice to see faces and see smiles."
DeFries, who is on the Board of Directors with the Hawai'i Pacific Foundation, said she has so much hope for this generation and their future.
"It's just amazing to sit and listen to them talk about their journey, why they chose the field that they chose, and what they want to do with it going forward," DeFries said. "It just makes me proud of them. … We're happy that we can be a small part of that."
After graduating from UH West O'ahu, Aiwohi-Makekau plans to pursue a master's degree as well as her passion for public administration and DPEM, a career that would benefit not only her own family's safety, but the broader community as well, she said. For Aiwohi-Makekau, her donors, supporters, and UH West O'ahu family are actually all a big part of her continuing journey.
"Often times, that is all we truly need, to have someone believing in us, to inspire us to press ourselves forward," she said.
To make a donation to UH West O'ahu or to learn more about donating, please email darian.padilla@uhfoundation.org or call 808-594-6851.
To see photos from the event, visit the He Lei Mahalo Scholarship Luncheon album on Flickr.