University of Hawaiʻi–West Oʻahu faculty and staff were recognized for their service, dedication, and contributions in and out of the classroom with UH System and campus awards this spring.
Regents' Medal for Excellence in Teaching: Bradley Ashburn
As announced in UH News, Regents' Medal for Excellence in Teaching is awarded by the Board of Regents as tribute to faculty members who exhibit an extraordinary level of subject mastery and scholarship, teaching effectiveness and creativity, and personal values that benefit students.
Bradley Ashburn is an assistant professor of chemistry at the University of Hawaiʻi–West Oʻahu. His research group focuses on the synthesis and biological evaluation of novel antiparasitic and antifungal compounds. Many of his former students and researchers have gone on to graduate from professional healthcare programs locally and across the nation. Mentoring students in their journey through academia and beyond is the highlight of his career.
"His positive energy makes class very fun and enjoyable, especially since organic chemistry is a course many students are nervous about and dread taking," a student said.
After postdoctoral research at UH Mānoa, he spent 10 years at Leeward Community College where he rose to the rank of associate professor teaching biochemistry and organic chemistry coursework. In August 2019, Ashburn embarked on an exciting new adventure joining the dynamic faculty at UH West Oʻahu.
Frances Davis Award for Excellence in Teaching in Undergraduate Teaching: Laurie James
As announced in UH News, the Frances Davis Award for Excellence in Undergraduate Teaching for a faculty and a graduate assistant recognizes dedication and demonstrated excellence as teachers of undergraduate students.
Laurie James is an assistant professor of math education at the University of Hawaiʻi–West Oʻahu. Since joining the education division in August 2016, she has become a co-facilitator of the Math Teachers' Circle of Hawaiʻi (MaTCH) sessions that promote inquiry-based investigations, intrinsic motivation and hands-on pedagogical approaches. Professional educators participate in the MaTCH meetings multiple times each semester solving mathematical problems so they can anticipate where their students might struggle with mathematical concepts.
James' students have stated that she is one of the more energetic professors they have ever had. "Dr. James is the math teacher that I wish I could have had while I was in elementary school. She makes learning math fun and embodies the concept of genuinely loving being a teacher with everything she is," said one student.
Since 2017, James has collaborated with Grant Toyooka, the Leilehua Complex resource manager in various STEM and robotics events. She helps to create student-friendly activities through mathematical challenges, the engineering design process, make-and-take stations and robotic quests.
Laulima Teaching Innovation Award: Lynette Williamson
The Laulima Teaching Innovation Award recognizes a UH West O'ahu faculty member for innovation, excellence, and achievement in online instruction.
Lynette Williamson is an assistant professor of Health Information Management (HIM). She has been in the field of Health Information Management (HIM) for more than 30 years. Before coming to UH West Oʻahu in 2019, Williamson taught in online modalities as a Teaching Administrator at Camden County College and as a Professor in the Health Information Technology/Cancer Information Management (HIT/CIM) department at Santa Barbara City College. Her research interests include student engagement and success especially in the distance education environment. She is a fellow for both the American Evaluation Association Minority Serving Institution (MSI) program and of the American Health Information Management Association (AHIMA). In 2017, she received the Merit Scholarship for Leadership from American Health Information Management Association (AHIMA). In addition to her service to UH West Oʻahu, she is serving on the Commission on Certification for Health Informatics and Information Management (CCHIIM) for AHIMA.
Lecturers' Excellence in Teaching Award: Joshua Stoll
The Lecturer Excellence in Teaching Award recognizes the dedication and commitment of our part-time lecturer personnel. This award was established at UH West Oʻahu in 2019.
Joshua Stoll received his Ph.D. in Philosophy at University of Hawaiՙi Mānoa in 2018. He has been teaching a diverse array of philosophy courses in the Humanities Division at UH West Oՙahu since 2017. His focus is in cross-cultural and comparative philosophy, bringing Eastern traditions, especially Indian philosophical traditions, into conversation with Western traditions.
Kumupaʻa Award: Brandon Carlos
The UH West Oʻahu Kumupaʻa Staff award recognizes a civil service or administrative professional and technical (APT) employee for outstanding demonstrated work performance, service, leadership and/or fostering of excellence in higher education.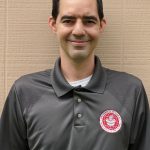 Brandon Carlos earned his Bachelor of Arts in Social Sciences in Psychology and Sociology from UH West Oʻahu and his Masters of Education in Educational Technology from UH Mānoa. He serves as the GEAR UP college advisor to the class of 2023 at Nānākuli High & Intermediate and Waiʻanae High School. He is also the Interim Director of Early College for UH West Oʻahu. In these dual roles, he guides students with their Early College applications, College and Career questions, and registration for UH West Oʻahu Early College classes; builds partnerships with high schools; and provides support to instructors and students.
He has found creative solutions to problems such as making personal "house calls" to pick up dual credit applications for MOAs, created videos to help students complete the UH online application, and gone to schools to take photos and converted them into UHWO IDs.
Through these positions, Brandon found the opportunity to serve and make a positive difference within his local communities.