Brand Protection
UH West Oʻahu is a member of the 10-campus University of Hawaiʻi System. It is governed by UH Board of Regents Policy and UH System Executive Policy.
Consult the UH System Graphic Standards and Style Guide for additional guidance.
Brand Alignment & Approval
Campus graphics, including but not limited to designs that include the campus name and/or those that represent a non-academic or grant-funded entity, should be submitted for review and approval before printing, procurement, and/or distribution to ensure alignment with the established brand identity of the campus. See Campus Identity for defined visual representations of the campus and its programs.
Licensing
All UH West Oʻahu names and affiliated names, seals, signatures, logos, and indicia (see below for items considered indicia) are registered trademarks and are protected under trademark laws. The ® must be used with the university signature or tagline on communication, recruiting, informational and promotional publications. Products or merchandise must carry the trademark symbol and be produced by licensed vendors, whether for internal use (e.g., department t-shirts) or for sale.
Use of the University of Hawaiʻi Indicia without the university's express written consent is prohibited and considered trademark infringement. Indicia is considered the university's:
Name
Seals
Abbreviations
Symbols
Emblems
Logos
Mascots
Slogans
Uniforms
Landmarks
Other terminology and trademarks that have come to be associated with the university
Any name, mark, logo, insignia, seal, design, word, letters or symbols which have come to be associated with the University of Hawaiʻi qualify as its trademarks. The use of any of the university's trademarks, even when encompassed by creative designs, are subject to licensing. The commercial use of all the university's trademarks is restricted to official licensees.
Any UH System licensing issues are handled by the Collegiate Licensing Office. The licensing program regulates and protects the commercial use of the university's name and identifying marks locally, nationally and internationally. It stimulates public awareness of the university's identity and ensures that products bearing university marks are of high quality and reflect positively on the institution.

If you officially represent the University and would like to use the UH West Oʻahu name, abbreviation, logo, or incidia on promotion items such as t-shirts, pens, bags, flash-drive or other swag, you may request for a Royalty Waiver. To do this, you must first submit a written request through the UH West Oʻahu Communications Department via the Communications Request Form and provide the following information:
Name of licensee that is producing product
Name of product and quantity of each item being ordered
Approximate price for each product/item
Attach graphic
How it will be distributed
Each request will be recorded and vetted by the Communications Department before being vetted by the UH System Collegiate Licensing Office. Requestors will be notified by the Communications Department when a request is approved or denied. All requests MUST go through the UH West Oʻahu Communications Department.
Filming on Campus
Filming on campus property is permitted only if it does not interfere with normal university business and previously scheduled events. Individuals or groups that wish to film on campus, not affiliated with the Chancellor's Office or ACM West Oʻahu, must notify the Communications Department at (808) 689-2600 or uhwocomm@hawaii.edu in advance.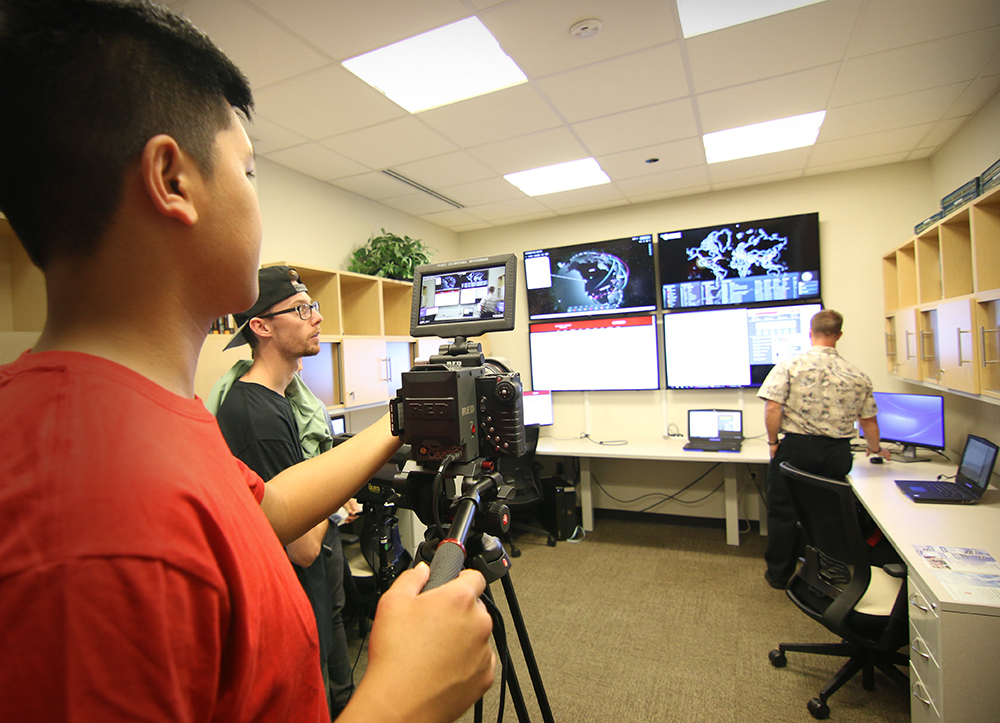 A license to film on university property for commercial and non-news purposes must be obtained prior to filming. The issuing of a license is coordinated through the University of Hawaiʻi Broadcast/Film/Public Information Officer, the Office of Risk Management, the university's Office of General Counsel and the Office of the Vice President for Administration.
To begin the process, submit a film request application to the UH Office of Communications. The application will be reviewed in conjunction with the appropriate campus or facility and work with the applicant to ensure university requirements are met prior to issuing the license.
The license is issued by the Office of the Vice President for Administration once all conditions are met to the satisfaction of the university.
A minimum of 10 business days is required to properly consider any request and process required paperwork.
If you have any questions, please contact the Communications Department at
uhwocomm@hawaii.edu