Health Requirements
Effective August 23, 2021, the University requires that all students, employees and visitors be fully vaccinated against COVID-19 or obtain and maintain a current negative COVID-19 test result prior to entering any University campus or any University facility or office.
To register for on-campus (including hybrid) courses at UH West Oʻahu, students must fulfill a set of health requirements, including vaccinations and clearances, for Spring 2022. The following is the list of requirements: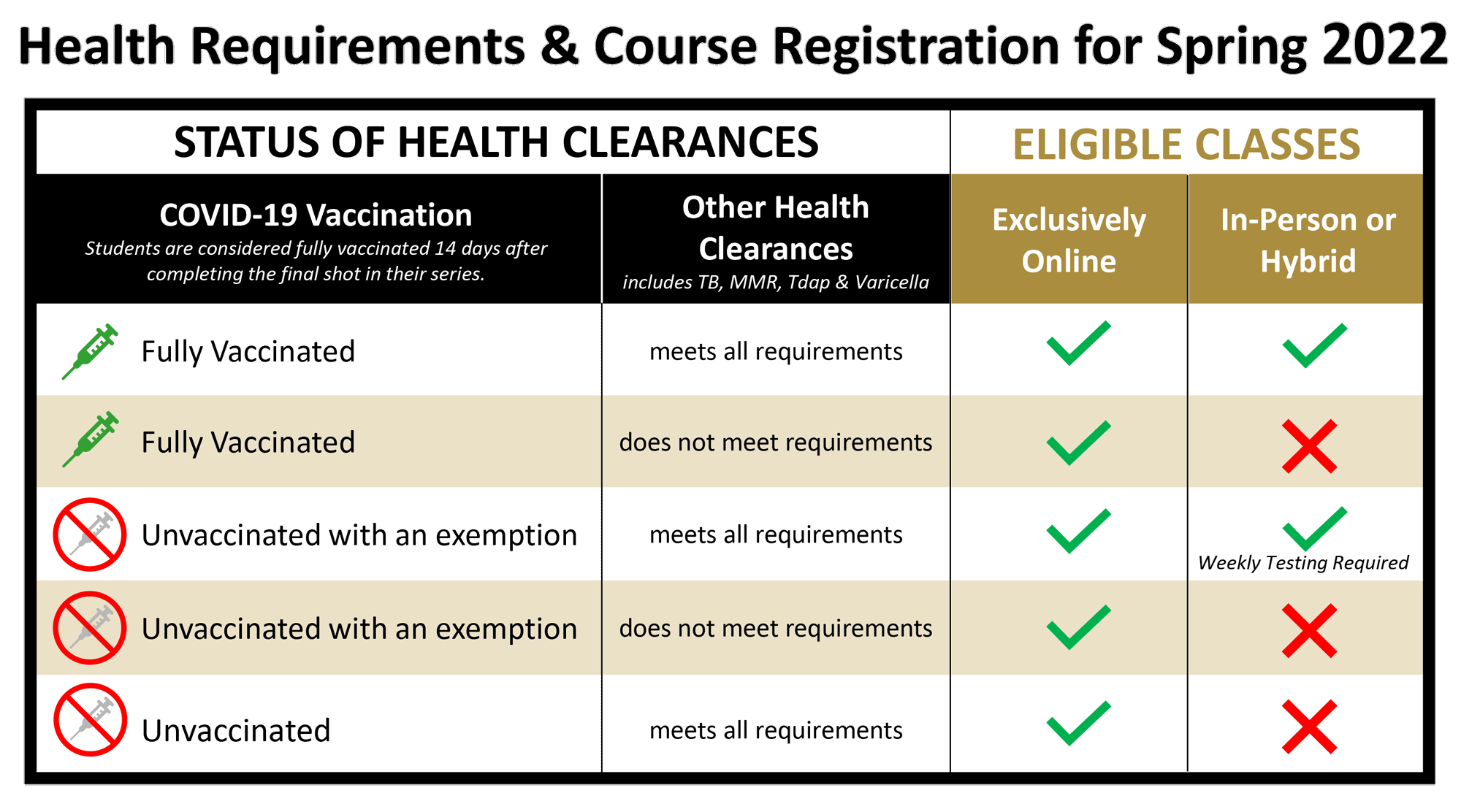 Department of Health Requirements
The State of Hawaiʻi Department of Health (DOH), the Hawai'i Administrative Rules, Chapter 11-157 requires all students to meet health requirements before they attend any post-secondary institution in the State of Hawai'i. For more information, contact the State of Hawaiʻi Tuberculosis Control Branch at (808) 832-5731 and Immunization Branch at (808) 586-8331.
A certificate of TB (Tuberculosis) examination, MMR (Measles, Mumps, Rubella), Tdap (Tetanus-diphteria-acellular-pertussis), and Varicella (chickenpox) immunization clearances are REQUIRED.
The health clearances must be from a U.S. Licensed Medical Doctor (MD), Advanced Practice Registered Nurse (APRN), or Physician Assistant (PA).
Download the Health Immunization Clearance Form and take it to your physician for completion.
Health clearances can be obtained from the following locations
Your private licensed physician
COVID-19 Vaccinations
All students who will be on campus are required to be fully vaccinated for the COVID-19 virus.
Individuals are considered fully vaccinated for COVID-19 if it has been two weeks after they have received the second dose in a two-dose series (e.g., Pfizer-BioNTech or Moderna) or two weeks after they have received a single-dose vaccine (e.g., Johnson & Johnson/Janssen). This guidance can also be applied to COVID-19 vaccines that have been authorized for emergency use listing ("EUL") by the World Health Organization (e.g., AstraZeneca/Oxford, Serum Institute of India, Sinopharm, and Sinovac as of July 2, 2021).
Exemptions
You may request exemptions from the COVID-19 vaccination requirement for medical or religious reasons. Students who receive exemptions will be required to provide proof of a negative COVID-19 test weekly to be on campus.
A person who is granted an exemption may be required to adhere to additional rules, including non-pharmaceutical interventions (e.g., wearing a mask or personal protective equipment, physical distancing, quarantining upon exposure to someone else with the illness, or no/limited entry into certain facilities, spaces, or learning opportunities until they are Fully Vaccinated).
Non-vaccinated and less than fully vaccinated students, prior to entering a University Site, must receive proof of a current negative COVID-19 test from a UH-recognized testing facility. See the Mandatory Vaccination for Student Policy for additional information on testing requirements.
All negative COVID-19 test results must be uploaded to a LumiSight UH account.
LumiSight UH
All students must provide verification of their current vaccination status by uploading a photo of their vaccination record and the requested information to the LumiSight UH daily health check app. All negative COVID-19 test results must be uploaded to a LumiSight UH account. If you are unable to use LumiSight UH, you may utilize one of our three Verification Stations.
Class Registration
Students who wish to register for in-person (face-to-face or hybrid) classes, will need to fulfill all necessary immunization and vaccination requirements. Students who have not met all of their health requirements may only register for online classes.
Please note that it may take approximately 3 days to process your Health Clearance Form after it is received. You may log into your STAR account to check your Health Clearance status.
Uploading Sensitive Information
Please use the UH West Oʻahu Secure File Transfer page to send your Health Immunization Clearance Form, Medical Exemption Form, or any document that contains personal and private information. Select the UH West Oʻahu Records Department as the recipient of your file transfer.
UH WEST O'AHU SECURE FILE TRANSFER
Questions?
Office of the Registrar
Campus Center, C141
91-1001 Farrington Highway
Kapolei, HI 96707
Phone: (808) 689-2900
Fax: (808) 689-2901
Email:
uhwo.records@hawaii.edu